Happy Memorial Day to all my followers! Please take some time today to remember the men and women who have lost their lives in service to our country. I sometimes take freedom for granted and forget that it comes at a price. My prayers and gratitude go out to all the military families who've lost loved ones.
The Brimfield (Masschusetts) Flea Market is the Oldest Outdoor Flea Market and it is only 2 hours from me. It started in 1959 and is three times a year in May, July and September. My mom read about it in a magazine and decided to come up from TN and go with me. We made a day of it and came home exhausted. Apparently, every show is different but this is my opinion/experience about my day.
First, don't miss your exit off of I-90. It is 15 miles to the next exit. I made an illegal turn and didn't travel the extra miles but it was risky. The market was May 9-14. I read a lot about it and we decided to go the first day. Some people say there is more to choose from on the first day but you get better deals on the last day. I do not know if this is the case but it makes since because the dealers don't want to pack the stuff up and drive it back home.
The whole experience was overwhelming starting with where to park. We parked at the first lot we came to on the right. It was the perfect spot and cost $8. We didn't deal with any traffic going in. Coming out there was more traffic but it still wasn't bad. I think Sat and Sun would have been really busy.
Because of where I parked it was easy to go up one side of the street and back down the other. Here is a map of the fields and my opinions of each of the fields we visited. As you walk down the street the fields sort of run together. I was paying close attention to the banners on the street lights and other signs to keep track of what field we were actually at.
Dealer's Choice – $5 entry fee. I figured out real quick that the prices were much higher than I was going to pay. Keep in mind though that I do not buy expensive "antique" furniture. I prefer junk that needs a little work and paint. Dealer's Choice was my least favorite field. There were a lot of ornate antiques and it was expensive. If I go back to Brimfield, I will not pay $5 to go in again. This is a pic of the line to get in before they opened the gates and then once we got in.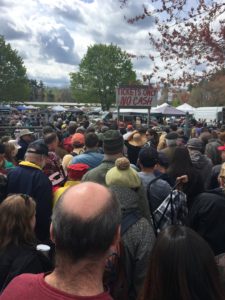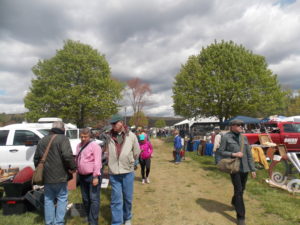 Grand Trunk – This was my favorite field. There was a lot of variety and some interesting things in this area. The prices here were much better than at Dealer's Choice. This is where we found the metal letters/signs which was one of my favorite finds. There were thousands of them to choose from.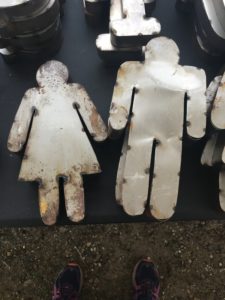 Francesco's Italian Restaurant – Our lunch spot. It was located between Grand Trunk and Heart -O-The-Mart. Excellent pizza, quick, great service and reasonably priced. It was nice to sit down in a comfy chair and have a good lunch.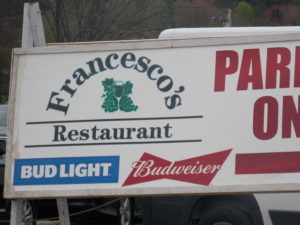 Brimfield Antique Store – This is a high end antique center that is open year round, not just during the Antique Market.
Midway – My mom found some old windows at a booth in Midway but there was no negotiating with the guy.
Central Park – There was nothing here to exciting for me.
Sturtevant's – I believe this is where there was a vendor setup on the street that had some cute stuff but it wasn't "antiques". It was more vintage makeovers.
Shelton's – I loved Mill 77 which was in this field. They have 3 locations in CT so I will be visiting their Amesbury multi dealer showroom soon. They specialize in Recycled and Industrial Decor.
May's – This was my favorite field. The Show brochure said this field was closed on Tuesday but it was open. My favorite dealer was Hazel Mae's Vintage. I thought their stuff was the cutest with the most reasonable prices. It is more of a French Country style store. This is also the field where all of the metal yard art was.
Stephen's Place – The only store I visited here was Juniper Hill Antiques which was located roadside. It was adorable french cottage style but wow, was it experience. They are also located in CT. If I'm in the area I might stop in sometime but to expensive for me. This white side table was $325. I wish I could get that kind of prices for my stuff. Good for them if they can!
New England Motel – This is where the food court is located. Lots of fair type food and several picnic tables to sit down.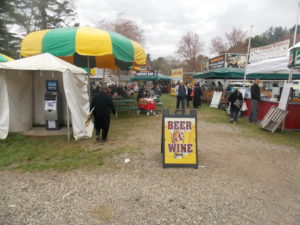 Brimfield Acres North – There is a fee for this field but it was a few minutes before closing when we arrived so we went in for free. I think at this point these dealers were tired and ready to get back to their hotels and rest. Most had packed up or were packing up and didn't even acknowledge we were looking at their stuff.
One of the oddest things to me about the day were all the antique mannequins. I thought they were very creepy but I assume they are a popular item because there were a lot of them, including one dealer that just had arms.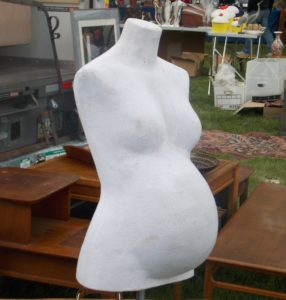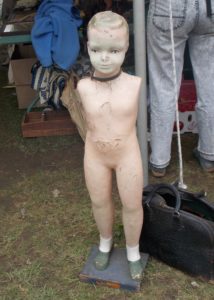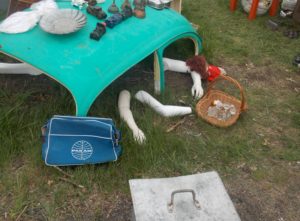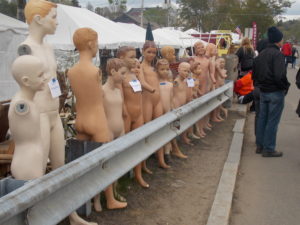 There were also a lot of odd statues. Here are a few of those.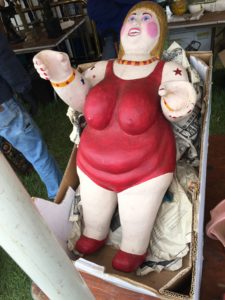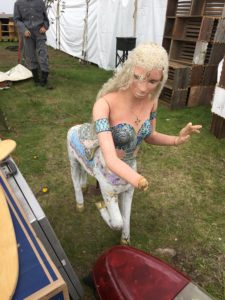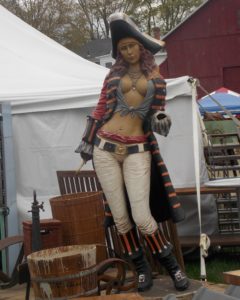 A couple of strange "art" pieces. Jack Diesel was funny. I never figured out these multi colored pegs things. Very funky!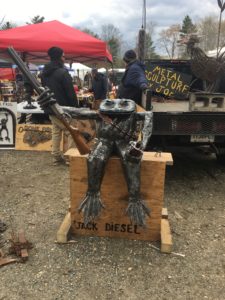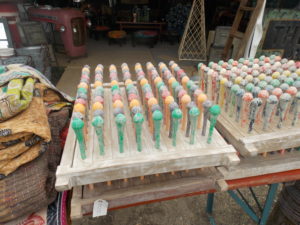 A lot of people had wagons but this was definitely the best packed one I saw.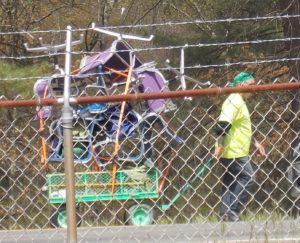 And, if you have any of this from your grandma or great grandma it is worth a lot so don't sell it for pennies at a yard sale.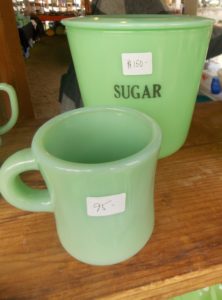 My favorite piece of furniture. This would be a gorgeous piece in a large home or restaurant.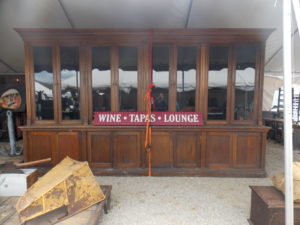 I am sure I will go back for the adventure next year. If you purchase things to refinish and are not an antique "collector", then it is probably not the place for you to shop. If you're looking for "unique" items then you can probably find them here. It was a fun day spent with my mom. It wasn't hot or crowded so that was a bonus. If you ever get the chance to go, it is well worth the experience.
Visit these weekly link parties (where I share my projects) to get more great diy ideas:
MONDAY
Show and Share at Coastal Charm
Merry Monday – Sun @ 6pm
TUESDAY
WEDNESDAY
Wednesday Linky Party – Wed @ 12:01 am
THURSDAY
The Handmade Hangout – Thurs @ 6 pm
FRIDAY
Sweet Inspiration – Fri @ 3:00
Best Friday Features – Fri @ 5:00
Flaunt It Friday – Fri @ 5:00
SATURDAY
Snickerdoodle Create, Bake, Make – Sat @ 5:00 pm
SUNDAY