For those of you that have been following me for a while, you might recall this board that I purchased at a junk store almost a year ago.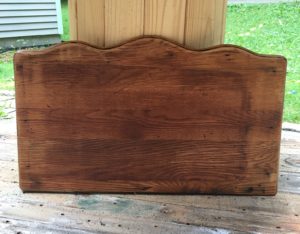 I knew I wanted it to be a sign but wasn't sure what saying to put on it. My aunt suggested, "As for me and my house, we will serve the Lord. Joshua 24:15". What a great verse to see every morning when we wake up and remind us everyday of what is most important. Well, here I am, about 9 months later and I finally did it.
A little history on the board. Supposedly, it was an antique toilet tank cover. I know, that sounds kind of gross. Hard to think of taking something off of a toilet and hanging it in your living room. But, it was just the tank cover so don't let toilet and sign in the same sentence scare you. It is approximately 29 in wide X 17 in high.
It is a great piece of wood. I completely sanded it down and refinished it a while back. I used my Silhouette Cameo to make a stencil. Normal people use the letters that are cut out. I do the opposite. I prefer to paint my letters as opposed to adhering the vinyl to the wood. I removed the vinyl letters and used the rest as my stencil. Here is a picture of my stencil. I get all of my vinyl at Expressions Vinyl. Click here to Visit Expressions Vinyl.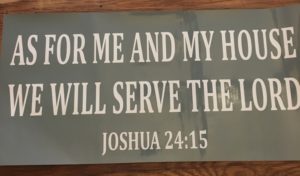 I then centered the stencil on the board. I painted the letters with 2 coats of Annie Sloan Chalk Paint in Pure White. Once dried, I removed the stencil. Then, I distressed the letters a little by sanding them. Once they were distressed exactly like I wanted I wiped away the dust and waxed it with Annie Sloan Wax. A few more pics of the process.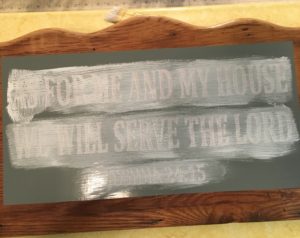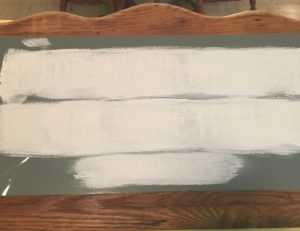 And that was it. Super Easy! Now I have to find the concrete drill bit so I can hang it.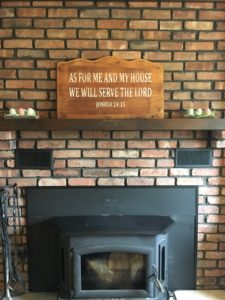 Visit these weekly link parties (where I share my projects) to get more great diy ideas:
MONDAY
Show and Share at Coastal Charm ◊
Merry Monday – Sun @ 6pm ◊
TUESDAY
WEDNESDAY
Wednesday Linky Party – Wed @ 12:01 am ◊
THURSDAY
The Handmade Hangout – Thurs @ 6 pm ◊
FRIDAY
Sweet Inspiration – Fri @ 3:00
Best Friday Features – Fri @ 5:00
Flaunt It Friday – Fri @ 5:00 ◊
Create, Bake, Grow and Gather ◊
SATURDAY
Snickerdoodle Create, Bake, Make – Sat @ 5:00 pm ◊
SUNDAY