We are having another snow day today. We had some beautiful weather in February and now March feels more like a normal February. We got a lot of snow yesterday and it was very windy and cold. Hopefully, the kids will be back in school tomorrow. We do not start school until the Monday before Labor Day but the earliest we will now get out is June 20th. With no A/C in the school, those last few days of June can be pretty miserable and HOT for the kids and their teachers. Snow days are fun but I'd rather have those days off in June.
A few days after we moved into our new house, my husband came in complaining about backpacks and jackets laying by the door. So what did I do, the next morning I made one. I wanted one with as many hooks as possible and I refuse to pay the retail price for a wall mount coat rack when I can make it for a few dollars. And the best part, it is my favorite Annie Sloan color, Duck Egg.
I started by figuring out how long I wanted it based on the wall I planned to mount it on. I decided on 45 inches. I found a 1X6 in my wood stash and cut it 45 inches long. I then went to the local hardware store in search of hooks. The "robe hooks" I planned to buy were $3.50 each. Do the math for 10 of them and you'll know why I decided very quick I wasn't using them. I started searching for options and ended up at the bolt/nail/screw section. I found these galvanized carriage bolts and instantly knew they were perfect. They are approximately 2 in long and 3/8 in diameter. The head of the bolts are perfect for jackets and backpacks. They were 69¢ each. (Did you know you can type a cent sign by holding ALT and typing 0162 from the number pad? Pretty Cool!)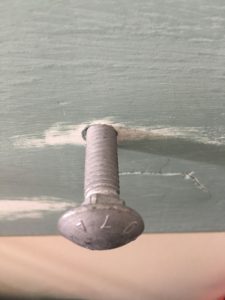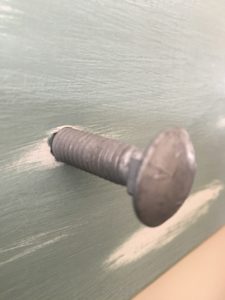 It is a little bit quicker math to do an odd number of bolts but I am sure you can figure out how to evenly mount them anyway. I found the center of the board and then simply measured to figure out how to space them. My bolts are 4.5 inches apart. This left about 2.5 inches on each end. I marked them all and then drilled holes. Be sure and drill the holes before you paint so you can paint over any of the splits. Make sure that your hole is small enough that the bolt will fit very tight. If it fits very tight you will not need a nut which eliminates the nut on the back side and makes it mount flush to the wall. I tested this on scrap wood to make sure my hole was going to be tight enough. Also, try to drill your holes in as straight as possible so that your bolts stick out level.
Once you have your holes drilled, paint your board. My board was already white so I painted over it with Annie Sloan Duck Egg, distressed it and waxed it with Annie Sloan Clear Wax. If you do not have access to an Annie Sloan stockist call The Painted Can and they will mail you anything you need. They typically have every color in stock. Their website is The Painted Can.
Next, put your bolts in. Use a wrench to screw the bolt in. Tighten your bolt in far enough that it sits flush with the back side of your board. Once you have them all in, you are ready to mount it. Use a level or measure to make sure your board is mounted straight. Find a couple of studs and screw you board to the studs. Coats and bags can weigh a lot so you definitely want to mount this to the stud as opposed to using sheetrock screws.
I like my coat rack better than any I could have bought. The galvanized carriage bolts gave it a little bit of a rustic look. Now my kids know exactly where their backpacks and coats go when they get home from school and my husband is not complaining about having to step over them at the back door.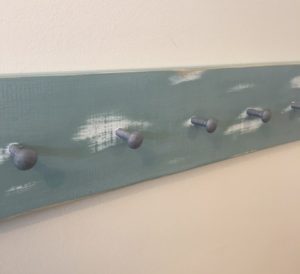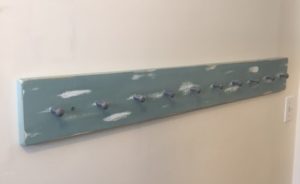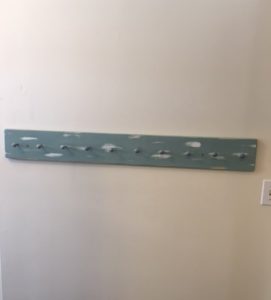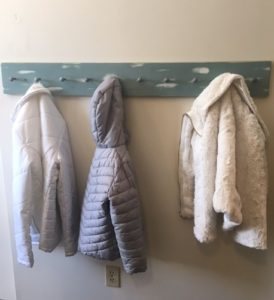 Visit these weekly link parties (where I share my projects) to get more great diy ideas:
MONDAY
Show and Share at Coastal Charm ◊
Merry Monday – Sun @ 6pm ◊
TUESDAY
Tuesday at Our Home with Our Home Away From Home ◊
WEDNESDAY
Wednesday Linky Party – Wed @ 12:01 am ◊
THURSDAY
The Handmade Hangout – Thurs @ 6 pm ◊
FRIDAY
Sweet Inspiration – Fri @ 3:00 ◊
Best Friday Features – Fri @ 5:00 ◊
Flaunt It Friday – Fri @ 5:00 ◊
Create, Bake, Grow and Gather ◊
SATURDAY
Snickerdoodle Create, Bake, Make – Sat @ 5:00 pm ◊
SUNDAY