Have you ever started a minor project, 30 minutes and $6, and it turned into 3 weeks and $500? We had all intentions of remodeling our half bath at some point in the next year or two but that timeline changed in a matter of about 5 minutes. I cannot say I am sorry that it happened this way because it looks so much better.
Here is how this event took place with every detail. My son had a friend over one Saturday afternoon. The friend got a nose bleed and flushed paper towels down the toilet, except they did not go down. We looked for the plunger but ended up waiting a couple of hours before we really searched and found it,  unclogged the toilet and went on with our business. An hour or so later, I went to the basement to do laundry and noticed water in the floor. After pulling out some insulation, we found that the toilet in our half bathroom was leaking. There was really only one thing that could be the problem and it's an easy fix, the $6 wax ring. We went to the hardware store, bought a wax ring and proceeded to remove the toilet to replace it. This is where the problem started.
When my husband pulled up the toilet this is how it came up.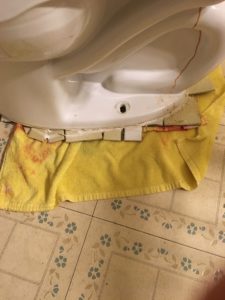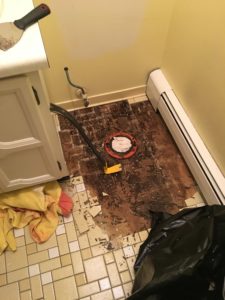 Not good! Toilets are not supposed to be caulked to the floor. Obviously, this toilet has been slowly leaking for quite some time, long enough to rot the subfloor. Every piece of the tile that is missing in the picture above was no longer attached. We picked it up like someone had just laid it there and not ever glued it down. Without the caulk it would've been noticeable because we would've seen water coming from under the toilet in the bathroom versus it having to soak through the subfloor. But that issue is behind us and I have a new bathroom.
The second issue was removing the beautiful early 80's wallpaper. My local hardware store buddy told me to use vinegar and water. His instructions were: score it (done with a tool you buy at a hardware store or Lowe's/Home Depot), spray with vinegar/water mixture, let soak for 10 minutes and scrape it off with a putty knife. This is the first time he has steered me wrong. I worked for a few hours and got 2 small sections off. I quickly decided that I was buying some wallpaper stripper. I purchased Chomps at Home Depot. It worked very good and was much easier. I scored it, sprayed it, let it soak for about 10 minutes, sprayed it again and it literally came off in full sheets. Once all the paper was off, I sprayed the walls with the stripper again and wiped it off with a wet towel to remove any remaining glue. I decided to paint a coat of Kilz before painting the grey, just to be safe. I did not want to do all that work and have wallpaper glue soak through and ruin my paint job.
This is how it did with the vinegar/water solution.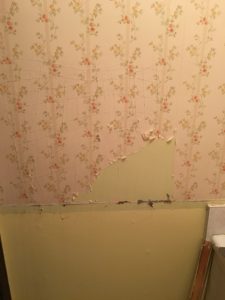 This is with the wallpaper stripper. It just bubbled up and loosened from the wall.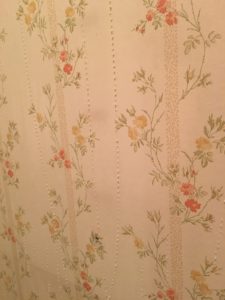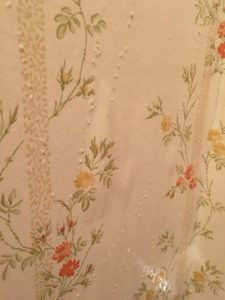 My husband had plywood on hand and used it to replace the rotten subfloor. Next, I picked out a tile I liked at Lowe's. I wanted a grey toned tile. They were about $1 a piece and I needed 25. We had to have 2 sheets of backerboard which were about $25. The pre-mixed adhesive was about $15. The grout was about $15. We laid it all out before we cut anything. Here are some pictures of the tiling process.
All laid out and ready to glue: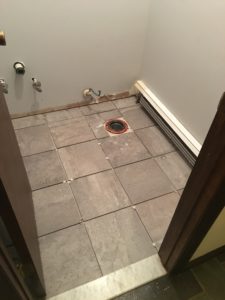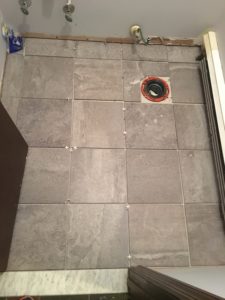 Tiling Complete!!!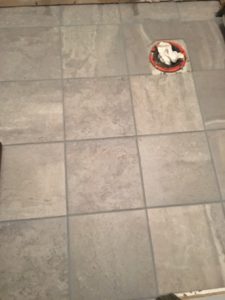 Next, we put the toilet back. This was the easiest part of the whole thing. Funny how that worked out since that is all we wanted to do to begin with!
I stained the new baseboard to match the existing woodwork. We put it in next so we could get it behind the toilet and sink. This was also an easy part.
Since the bathroom is so small  (4'2 X 4'6) and the only thing we need to store in there is toilet paper, we decided on a pedestal sink. It really makes the room feel larger. We went with the one that was the right size and in stock at Home Depot. It was on sale for $160 with the pedestal. We also had to buy a new faucet. It is a Delta and was on sale for $140. We also had to buy some miscellaneous plumbing pieces. Our mess up on the sink install was that we ended up having to cut a piece of sheetrock out that was about 18 in by 6 in in order to mount a 2X4 between the studs to attach the sink to the wall. It wasn't a big deal but just required some wall repair and paint.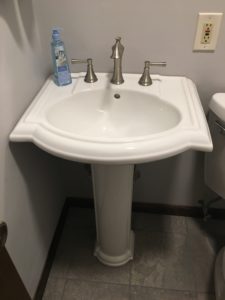 We replaced the light fixture, a towel hook, mirror and the cover on the fan. I made a few signs for decor. I should receive the antique metal toolbox I got to hold spare toilet paper in a couple of days. Then I will find an antique bucket for a trash can and it will be complete.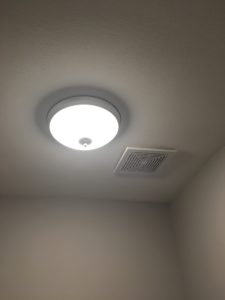 There are still a lot of projects to do in the new house but we can check this one off the list.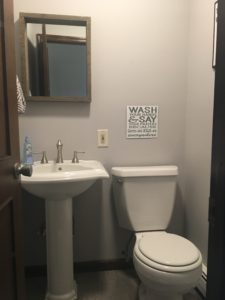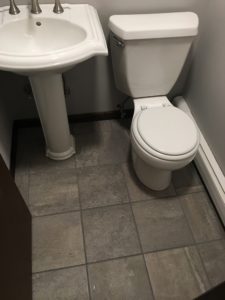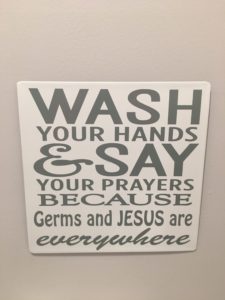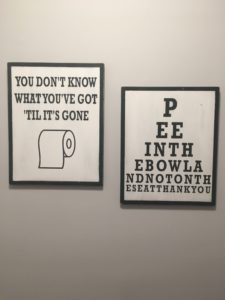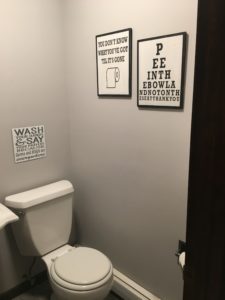 Visit these weekly link parties (where I share my projects) to get more great diy ideas:
MONDAY
Show and Share at Coastal Charm
Merry Monday – Sun @ 6pm ◊
TUESDAY
Tuesday at Our Home with Our Home Away From Home ◊
WEDNESDAY
Wednesday Linky Party – Wed 12:01 am ◊
THURSDAY
The Handmade Hangout – Thurs @ 6 pm ◊
FRIDAY
Sweet Inspiration – Fri @ 3:00 ◊
Best Friday Features – Fri @ 5:00 ◊
Flaunt It Friday – Fri @ 5:00 ◊
Create, Bake, Grow and Gather ◊
SATURDAY
Snickerdoodle Create, Bake, Make – Sat @ 5:00 pm ◊
SUNDAY