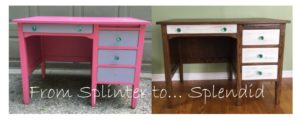 My parents gave me this oak desk for my daughter's room a few years ago. She had an adorable pink and purple room so I painted the desk pink and purple. It was great until a few months ago when she decided she hates pink and purple. This time I painted it how I wanted it with some cute knobs to make it look a little girly. This is what it looked like before.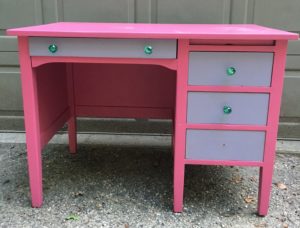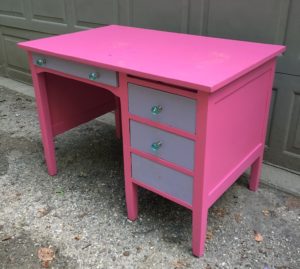 I don't mind stripping furniture when I can simply take my sander and sand down to the bare wood. I was able to do that on the drawers and top, for the most part. The sides were a different story. I had to use Kleen Strip and strip the paint off layer by layer. If you have ever stripped painted furniture you probably know what I am talking about. But, if you have a better way please share it with me. It made me realize why I love Chalk Paint. I used a paint scraper, wire brush (for corners and hard to reach areas) and steel wool. You simply apply a coat of Kleen Strip with a paint brush and scrape it off. Repeat as many times as necessary until all paint is removed. Then, put Kleen Strip on the steel wood and scrub the desk to get all the paint out of the wood grain. I wiped it down with a dry cloth and the hard part was over. Here are some pics of the top towards the end and when I finally got it all out of the grain.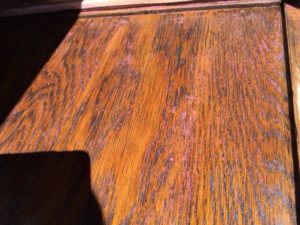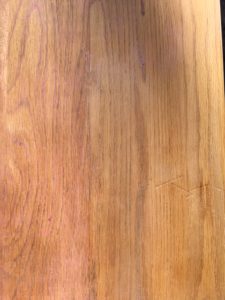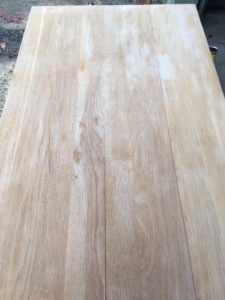 Stripping is a little messy so I would not do it inside. When outside, work in small sections so the Kleen Strip does not dry to fast. Ideally, it would have been best if I had done it inside the garage with plastic underneath. Stripping is not really difficult but it does require time and patience. Once I got it stripped I decided there was no way I would ever paint it again. Oak is gorgeous and probably shouldn't be painted anyway.
Once stripped, I let it sit for a couple of days. I painted the drawers with 3 coats of Annie Sloan Pure White. Then, I distressed them with sandpaper and applied Annie Sloan wax. I put the aqua colored glass knobs that my daughter pick out back on and the drawers were done. I stained the rest with Minwax Jacobean stain. I let that dry for a day and then added a coat of polyurethane. Once it dried, I lightly sanded it to remove any bubbles. I added one more coat of Polyurethane, let it dry and it was done. I love the oak. It turned out beautiful.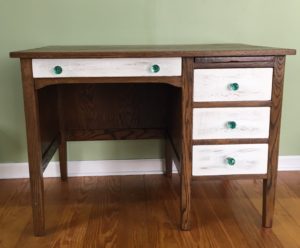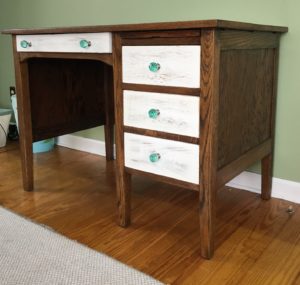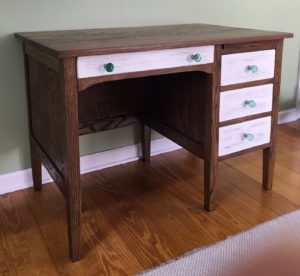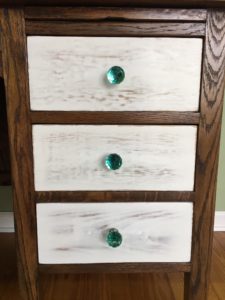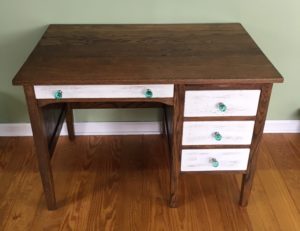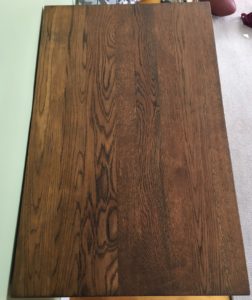 Visit these weekly link parties (where I share my projects) to get more great diy ideas:
MONDAY
Show and Share at Coastal Charm ◊
Merry Monday – Sun @ 6pm
TUESDAY
Tuesday at Our Home with Our Home Away From Home ◊
WayWow Linkup – Tues @ 9 pm
WEDNESDAY
Wednesday Linky Party – Wed 12:01 am ◊
THURSDAY
The Handmade Hangout – Thurs @ 6 pm ◊
FRIDAY
Sweet Inspiration – Fri @ 3:00 ◊
Best Friday Features – Fri @ 5:00 ◊
Flaunt It Friday – Fri @ 5:00 ◊
Pin Me ◊
Create, Bake, Grow and Gather ◊
SATURDAY
Snickerdoodle Create, Bake, Make – Sat @ 5:00 pm ◊
SUNDAY