We had a very exciting and blessed Christmas.  We bit the bullet and bought a house in New England in December. And, because we got our own house and are no longer at the mercy of a landlord, we got a cute Beaglier (Cavalier King Charles Spaniel/Beagle Mix). We had two very excited kiddos on Christmas morning.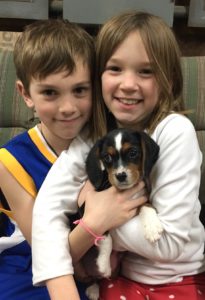 Our house is perfect and we are loving it. It is a little out dated but very livable. There are so many things I want to do that I get overwhelmed and am not sure where to start. It was built in 1979 and I think the kitchen and all the bathrooms are original. We have a yellow kitchen, a brown bathroom, a blue bathroom and a yellow half bath with wallpaper. Luckily, the only other wallpaper is in the dining room.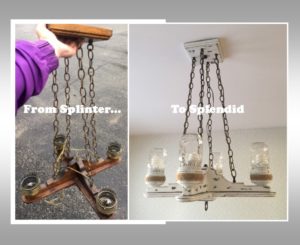 I was tired of looking at the outdated dining room light fixture. I can see it from the couch so every time I sat down I had to stare at it. On Thursday, I took it down and painted it. I forgot to take a picture before we took it down. Use your imagination and picture it with these beautiful shades. Definitely an early 80's look.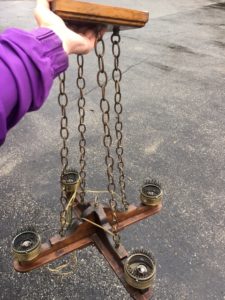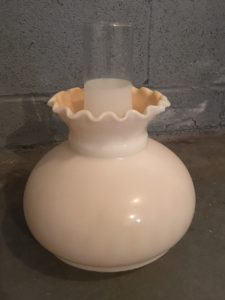 If you follow my blog you know that I sometimes use other brands of chalk paint but Annie Sloan is my favorite. I use other brands out of convenience. I am so excited that Thanksgiving weekend an Annie Sloan Stockist opened about 15 min from our house. They stock every color, all the supplies and the owner is so pleasant. Check out her website, The Painted Can. If you need Annie Sloan Paint, call The Painted Can and they will gladly ship it to you.
I started this little diy project by taking it apart as much as I could without removing the sockets. I wiped it good with Lysol wipes. I originally planned to paint the brass chains and the part that hides the socket in a silver hammered but then decided against it. I soaked the chains in Mean Green and it dissolved the brass finish. That is what made me decide to paint the socket covers (not sure what these are really called) white. I then painted it with Annie Sloan Pure White. I did 3 coats, waxed, distressed and waxed again. I know 3 coats sounds time consuming but it dries very quick. Just make sure it is dry before you start the next coat. Wet spots will have a wet/shiny look. I then put it all back together. After studying it, I was not crazy about the "socket covers". I had some natural decorative trim from Hobby Lobby in my stash. I attached it around the "socket covers" using Simply Tacky (easy to remove). I originally put just the frosted glass globes back on it as you can see here.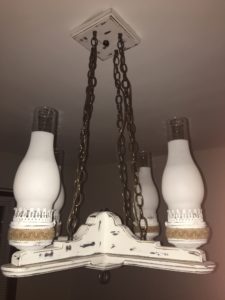 After 3 days of hating those frosty globes I decided to try pint sized Mason Jars. They fit perfect and it looks so much better. The Mason Jars go with the distressed paint theme much better than the frosted glass. I changed the light bulbs to a soft white because the regular bulbs were to bright without the frost. What do you think? Don't the Mason Jars look so much better?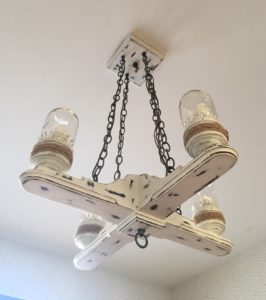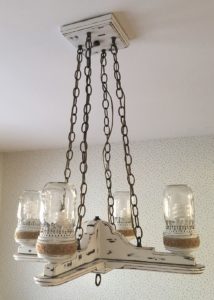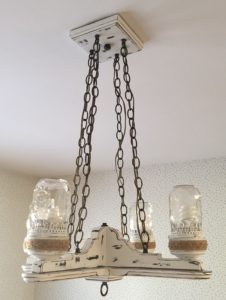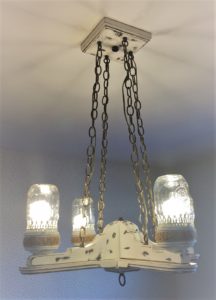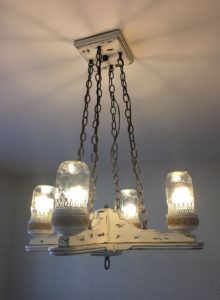 I had a friend tell me on Saturday that I am so crafty. I explained that I really am not, just not afraid to try almost anything. This lamp is a great example, what did I have to lose if I messed it up? There is no way it could have looked worse. It did not cost me anything to do this project because I already had all the supplies. I have so many things I want to share with all of you. Stay tuned for more house updates soon.
Visit these weekly link parties (where I share my projects) to get more great diy ideas:
MONDAY
Show and Share at Coastal Charm ◊
Merry Monday – Sun @ 6pm
TUESDAY
Tuesday at Our Home with Our Home Away From Home
WayWow Linkup – Tues @ 9 pm
WEDNESDAY
Wednesday Linky Party – Wed 12:01 am ◊
THURSDAY
The Handmade Hangout – Thurs @ 6 pm ◊
FRIDAY
Shabbilicious Friday Link Party
Sweet Inspiration – Fri @ 3:00 ◊
Flaunt It Friday – Fri @ 5:00 ◊
Pin Me ◊
SATURDAY
Snickerdoodle Create, Bake, Make – Sat @ 5:00 pm ◊
SUNDAY
Get Your DIY On (First Sunday of the Month)