My grandmother gave me this desk years ago. At the time I was in my early 20's and had no place to put it in my tiny apartment and honestly, didn't really care about it. I would never had told her that though. She was adamant that I, her only granddaughter, have it. Once she gave it to me, it sat in my parents basement for several years, then went to a storage unit, then back to my parents, all over about a 10 year period. A few years ago we finally got a house large enough for it. At that point in life I was so excited to get it. Not only did we need a desk but it now means a lot to me since it is one of the few things I have of hers. When we visited her as a child, it seems like she was either in the kitchen or sitting at this desk. This is now the desk my son uses to do his homework. A few years ago, I almost painted it red to match his room. I am so glad that I never got around to it. After a lot of years of my grandmother using it and then my son, it was looking pretty rough. I love the trim around the top and I wanted to paint it with chalky paint to accentuate that detail. I love how it turned out.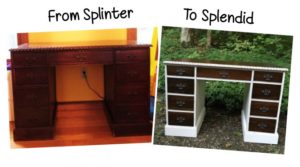 First, I removed all the drawers and hardware. I sanded the top to get all the scratches out of it. Wow, what a difference that made. I used my palm sander which made it pretty easy. I also sanded around the bottom to get out some of the deep scratches. And, the drawer fronts so I could restain them. At this point the top looked so good I considered stripping it and staining the whole thing but then I decided, well, maybe next time it needs to be redone.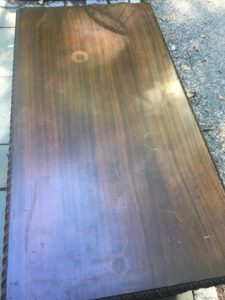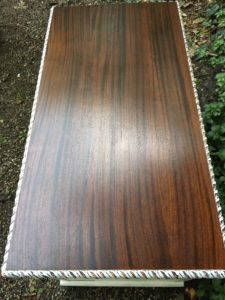 I used Minwax Jacobean stain on the top and the drawers. I applied one coat of stain and let it dry overnight. I added a coat of polyurethane, let it dry, lightly sanded and then added second coat. The handles were brass plated and most of it had worn off. I soaked them in a vinegar & salt mixture overnight and then cleaned with steel wool. That took off all the brass finish and I knew they were going to start rusting. I left them outside to dry. As soon as they dried, I spray painted them with Rust-Oleum Gray Hammered. I considered buying new ones but there was so many of them and hardware is not cheap. I'm glad I painted them because I think they are better than anything I could've bought. I put the handles back on and the drawers were finished.
Next, I used Valspar Kid's Glove Chalky paint for the rest of the desk. Prior to paint, I added a coat of Shellac. This is an easy way to seal the existing stain so that it does not bleed through the paint. Once it dried, I added 2 coats of paint and let them dry overnight. It's been so humid here that I ended up putting a fan on it because it was taking forever to dry. After it dried, I distressed the edges. I sealed it with Valspar Sealing Wax. With the drawers back in, it is now Splendid!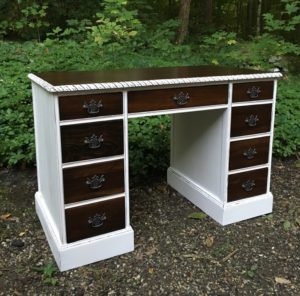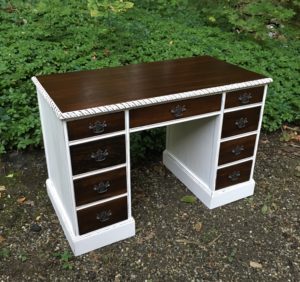 Differences between Annie Sloan and Valspar Chalky Paint. The biggest reason I use Valspar is because I can buy it at our local hardware store. The closest Annie Sloan distributor is over an hour away. I think Valspar goes on smoother but Annie Sloan is thicker. Valspar is easier to distress. With Annie Sloan I wax, distress and wax again. It chips if not waxed first. Valspar distresses better and without prior waxing saving a step. Valspar is $5-$10 cheaper per quart. Valspar wax is $10-$15 cheaper. Valspar wax is easier to apply. It is more of a gel consistency that you paint on and wipe off. Annie Sloan has to be brushed on and hand buffed off. And it requires 2 layers of wax. Those are the major differences in my opinion. If I had to choose, I like the finished look of the Annie Sloan products better but it is more work. I have not tried Annie Sloan paint with Valspar wax but I plan to soon and will let you know what I think.
Visit these weekly link parties (where I share my projects) to get more great ideas:
MONDAY
Show and Share at Coastal Charm
Merry Monday – Sun @ 6pm ⋅
TUESDAY
Tuesday at Our Home with Our Home Away From Home ⋅
WayWow Linkup – Tues @ 9 pm ⋅
WEDNESDAY
Welcome Home Wednesdays – Wed @ 7am ⋅
THURSDAY
The Handmade Hangout – Thurs @ 6 pm ⋅
FRIDAY
Shabbilicious Friday Link Party ⋅
Sweet Inspiration – Fri @ 3:00 ⋅
Peace, Love, Linkup – Fri @ 6:00
Flaunt It Friday – Fri @ 5:00 ⋅
Pin Me ⋅
SATURDAY
Snickerdoodle Create, Bake, Make – Sat @ 5:00 pm ⋅
SUNDAY
Sundays at Home – Sat @ 8 pm ⋅
Get Your DIY On (First Sunday of the Month)