This week has been busy finishing up my cleaning. I've been cleaning out drawers and closets and it feels so good to throw out bags of trash. Next week, I will be busy reorganizing my basement and garage. Not fun stuff but the end result feels so good. I did find a little time to work on some projects in between.
This week I am sharing a little upcycle project I did. As I was downloading pictures of this I realized, I again forgot to do before pics. So frustrating! But, it was a vintage light stained jewelry box that turned out very cute. I am also working on another bigger project that I am excited to share next week so stay tuned for that.
I have had this jewelry organizer for a while. I believe I bought it at a yard sale. I started by cleaning it and vacuuming out the inside. I wanted a color that would not clash too much with the red velvet inside the tray but also wanted a bright color. I chose Annie Sloan Arles and I am so glad I did. I painted two coats with a 1/2 inch paint brush. After it dried, I added Annie Sloan wax and buffed it. I then used 100 grit sand paper to distress it. I lightly distressed the edges and corners, handles and some random places. I then waxed and buffed it again and it was done. It gave it so much more character than the simple stain it was before. It was a very simple upcycle that made it so much more modern. I love how it turned out.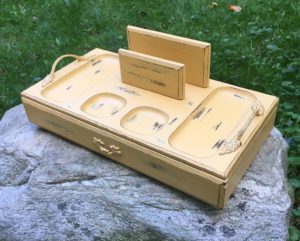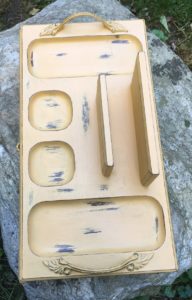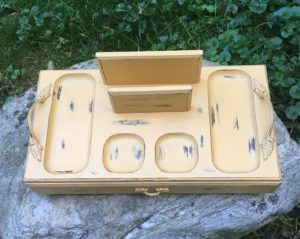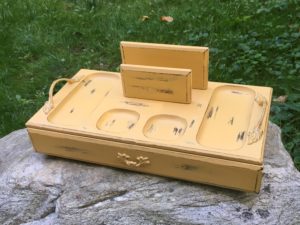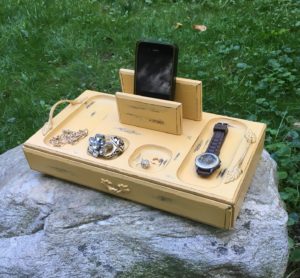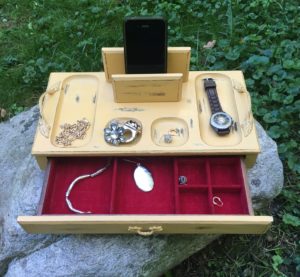 I am working on starting an Etsy page to sell some of my projects. My only problem is that I want to keep everything. I guess I only need so many clocks, candle holders and organizer trays though. I also hate knick knacks sitting around that I have to dust so it's time to start parting with some of these things. Soon, I will be sharing my Etsy page so if you see anything on my blog you love, you will be able to have it in your home.
Next week I will be sharing how I refinished this desk that was my grandmothers's.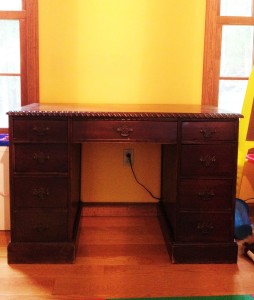 Visit these weekly link parties (where I share my projects) to get more great ideas:
MONDAY
Show and Share at Coastal Charm ⋅
Merry Monday – Sun @ 6pm ⋅
TUESDAY
Tuesday at Our Home with Our Home Away From Home ⋅
WayWow Linkup – Tues @ 9 pm ⋅
WEDNESDAY
Welcome Home Wednesdays – Wed @ 7am
THURSDAY
The Handmade Hangout – Thurs @ 6 pm ⋅
FRIDAY
Shabbilicious Friday Link Party ⋅
Pin Me ⋅
SATURDAY
Snickerdoodle Create, Bake, Make – Sat @ 5:00 pm ⋅
SUNDAY
Sundays at Home – Sat @ 8 pm ⋅
Get Your DIY On (First Sunday of the Month)