It's been busy since school started back. Due to lack of (or no) interest, I became the PTO President this year. Fortunately, we have some great parents and teachers that help us. But, with all the forms, flyers, fundraisers and back to school picnic, it has been a busy couple of weeks. I've joked about it being easier to get a job, donate my paycheck to PTO and be done with it. But, after seeing all the kids playing, parents and staff mingling and everyone enjoying themselves last night, it was all worth it in the end. As long as I don't have to sell wrapping paper or peanuts I am happy!!!!!
I started this week thinking I would just make the mantel clock beautiful again and then I saw the candle holders in my makeover stash. Since they were easy and I wanted them the same color, I went ahead and did them as well. I love the color and wow does that clock look better. I completely forgot to take before pictures of the candle holders. They were just dark stained, not awful, but much better now.
I have learned that you should keep a few batteries in your car so that you can test things at yard sales. Sometimes things are such a good deal that whether they work or not, they are easily fixed and worth the price regardless. I got the clock about 9 months ago from my favorite shopping place which unfortunately closed and they still have not found another building to rent. The last day the store was open for business I bought this in a group of things for $10. One of the things in the group sold at the craft fair for $25 so I'd say I got a pretty good deal.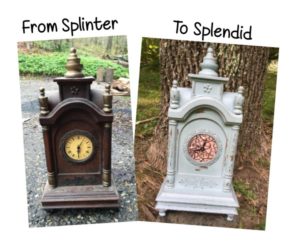 I love to upcycle things that have a lot of detail because I think they come out so good distressed. When I got the clock home it did not work. A few months ago I ordered one for $8 (including the hands) and finally got around to doing this project. I first cleaned it up with my "go to", Lysol wipes, and a toothbrush. I was going to save the clock face to reuse but it broke when I was taking it apart to clean it. Once I had it clean, I painted 2 coats of Annie Sloan Duck Egg Chalky Paint. I love this color. It is a unique shade of blue with a small hint of green. I then added a coat of Annie Sloan wax and buffed it. I sanded/distressed it with 220 grit sandpaper. I added another coat of wax and buffed it. Now for the clock! As I said, I broke the clock so I had to cut a new circle using 1/4 mdf board and my jigsaw. Then I used my Silhouette machine to cut a perfect circle out of card stock, with the hole in the exact center. I modge podged it onto the wood. Then I drilled a hole in the center for the clock post. I also used my Silhouette and adhesive vinyl to cut the small circles at 3, 6, 9 and 12 and the small circle in the middle to keep it all centered. The Silhouette makes it easier but by no means is something I had to have to do this project. Next, I used E 6000 glue to attach the wood circle to the decorative circle edge and then glued the decorative circle edge to the base. I set the time on my clock and it now works great. I think it is Splendid!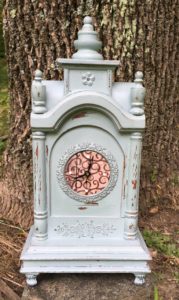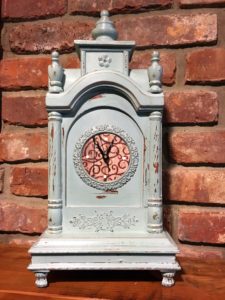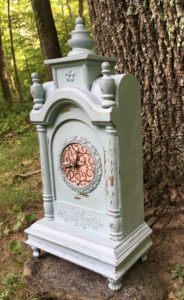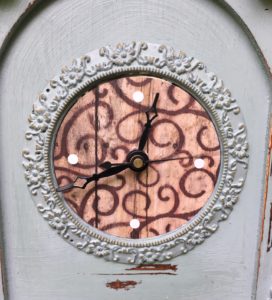 The candle holders were easy to do. I cleaned them with wipes, painted 2 coats of the same Annie Sloan Duck Egg, waxed, buffed, distressed, waxed, buffed and thought they were done. When I was moving things around on my mantel for a picture I realized I had the 2 glass vases I got at Dollar General a while back. Then it clicked, those would look great attached to these candle holders. I used E6000 glue again and glued them to the holders. Now I can use them for so many more things than just candles. I love the height it added to them. I decided to put the pines cones and cream pumpkins in for fall. The vases made them look completely different and was a very nice addition. I love everything about them.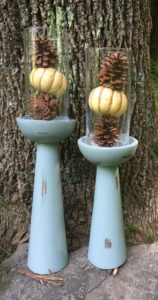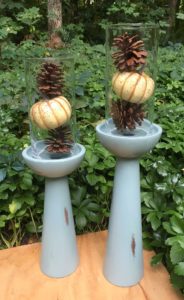 And here they are together!!!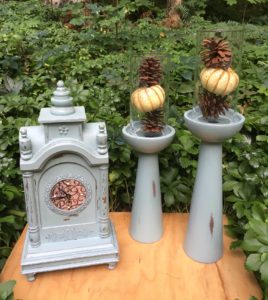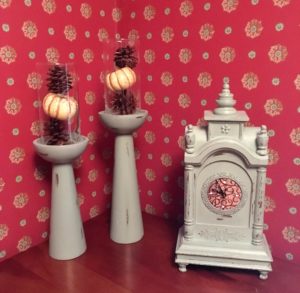 Visit these weekly link parties (where I share my projects) to get more great ideas:
MONDAY
Show and Share at Coastal Charm ⋅
TUESDAY
Tuesday at Our Home with Our Home Away From Home ⋅
WayWow Linkup – Tues @ 9 pm
WEDNESDAY
Welcome Home Wednesdays – Wed @ 7am ⋅
THURSDAY
The Handmade Hangout – Thurs @ 6 pm ⋅
FRIDAY
Shabbilicious Friday Link Party ⋅
Pin Me ⋅
SATURDAY
Snickerdoodle Create, Bake, Make – Sat @ 5:00 pm ⋅
SUNDAY
Sundays at Home – Sat @ 8 pm ⋅
Get Your DIY On (First Sunday of the Month)