I took last week off. I rested up from the craft show and took a mini vacation. I left my husband and kids in CT and met some friends in Bristol, TN at the Nascar race. It was so much fun. Luckily, we got free tickets to the race on Friday night since Saturday night was postponed until Sunday due to rain. Unfortunately, I had to get back for my husband to work and did not get to see the race on Sunday. There's always next year and we still had a great weekend!
I could not imagine that a pallet could turn into something like this. This is the second large wall clock I have made from a pallet. If you missed the first one you can see it here (Large Wall Clock).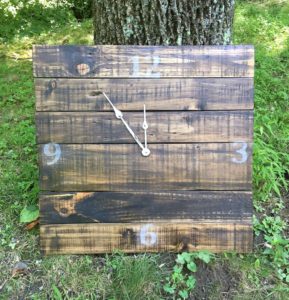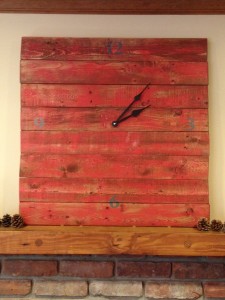 I began by taking apart the pallet. Ooops, I forgot to take pictures before but I used by skil saw and cut each board down the red line show in this pallet. This makes it really easy to take apart. After that I just have to remove the nails at the center.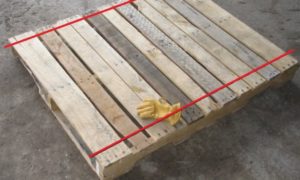 Once I had it apart, I cut each one 24 inches long. Then, I sanded them to get them smooth. I stained them with Minwax Dark Walnut. I love how each one looks different and all the different effects you get with the pallets. Once the stain dried overnight, I sprayed them with Minwax Fast Drying Polyurethane Spray. I love how easy this spray is to use. With my boards all prepped it was ready to put together.
I used a 1X2 that I already had and cut it into (2) 23 inch pieces. As you can see in this picture, I used Elmer's Wood Glue and then screwed each board onto the 1X2.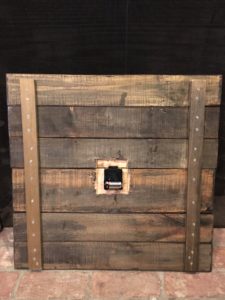 My clock piece came from Clock Works. (www.clockworks.com) I have ordered from them before and they are very helpful. They are also only a couple of hours from me so I typically get my order the next day. I ordered a C Cell High Torque with 8 inch hands which cost about $25, including shipping. The width of the clock is exactly 24 inches but the height is only about 23.5 inches. When it is finished you can't even tell that it is not a perfect square. Next, I used my Center Find Ruler and found the exact center. I used my drill and made a hole slightly smaller than my clock post. And next, came my first issue. My boards are not all the same thickness. The hands were touching some of my boards. I have this tool that my dad gave my husband for Christmas a few years ago called an oscillating multi function tool. I used it to thin the board where the clock piece goes.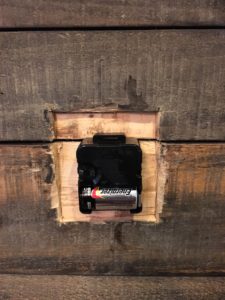 Now it is thin enough for both hands to go all the way around and not touch anywhere. I decided to paint the hands white since the black did not show up to well on the dark stained wood. Once they dried, I lightly sanded them to give them an aged look and sprayed with a clear sealer.
I then used my Silhouette to make vinyl number stencils. I centered each number and lightly painted, with white chalk paint, and then wiped away with a paper towel. Once the numbers dried, I lightly sanded them. I put my hands on and it is all done.
I love this one. Maybe even more than my red rustic one.
And now it is Splendid!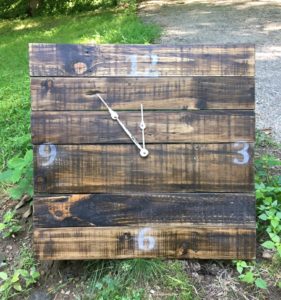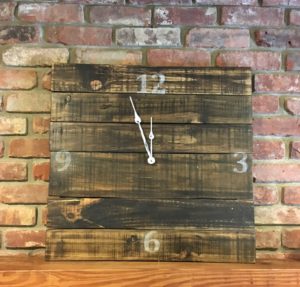 Visit these weekly link parties (where I share my projects) to get more great ideas:
MONDAY
Show and Share at Coastal Charm ⋅
TUESDAY
Tuesday at Our Home with Our Home Away From Home ⋅
WayWow Linkup – Tues @ 9 pm ⋅
Thrifted Accessories & Vintage Bliss
WEDNESDAY
Welcome Home Wednesdays – Wed @ 7am ⋅
THURSDAY
The Handmade Hangout – Thurs @ 6 pm ⋅
FRIDAY
Shabbilicious Friday Link Party ⋅
Pin Me ⋅
SATURDAY
Snickerdoodle Create, Bake, Make – Sat @ 5:00 pm ⋅
SUNDAY
Sundays at Home – Sat @ 8 pm ⋅
Get Your DIY On (First Sunday of the Month)