I decided about a month ago to set up a booth at the craft fair in my town. It is a decent size fair with about 75 vendors and this was the 57th annual event. Pretty amazing that a very small town has kept it going this long. It is hosted by our parks and recreation department. The craft fair was this past Saturday so I wanted to share my thoughts with all of you on how it went. It was a long day but fun. I'll kind of start from the beginning.
First, as you've hopefully seen in my previous posts, you have to have inventory (My First Craft Fair; Part 1 and My First Craft Fair; Part 2). I had one month to add enough to my inventory to set up a booth. I knew I would not sell all of it but you can't open a grocery store only selling milk and eggs and expect to stay in business long. My parents helped a lot with this part of the process. I ended up with a nice variety of items.
I thought a lot about how I was going to display my stuff. I had 3 major things to consider; cost, stability and transportation/setup. I shopped fence pieces, wood to make a fence type structure and other things but it all was going to add up to be more than I cared to spend. This is when I decided I had to figure out a way to use pallets (free from my husbands work). I researched online and found a neat pallet display that was actually used as a backdrop for a wedding. This cost me 2 hinges, which were $2.78 at Home Depot. I used 2 pieces of scrap wood to add a foot stabilizer on each end. I was trying not to eat into my profit any more than needed and I think I accomplished that with these. The other thing I had to consider was moving it by myself. I was able to remove the hinges (one at the top of each pallet) to transport and then easily added the hinges back when I got to the fair. I set it all up at home to make sure it was within the 10×10 booth size and see how long it took so I could plan how long I needed to allow for setup. I took pictures at home so I could look at pictures to reset it up. I thought it looked rustic and creative once I get all my signs on. And, it was very stable. No fear of it falling on anyone. I thought it looked much better than a metal display rack, at least for what I was selling!!!! I also used my 6 foot table with an off white table cloth I already had. I was able to borrow a 10×10 shade tent. So, my setup was really cheap. Here are pictures of my pallet display before and after I added signs.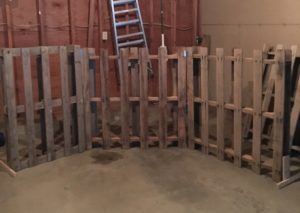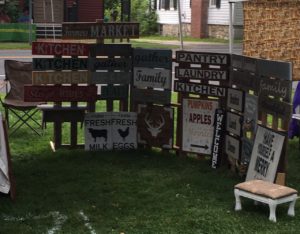 The only other things I had to do was get a receipt book, which I picked up for $1 at Dollar General, and customer change. I rounded for sales tax. In other words, if something was $25, the actual sale price was $23.51 plus $1.49 sales tax to make the total $25. This made it easier for change since everything totaled a multiple of $5. I did not lose any sales because I did not accept credit cards. But, if I do another fair I will order a Square to process credit cards. I had 2 customers that walked away because I did not take credit cards. Fortunately, one borrowed $ from a friend and the other came back a couple of hours later will cash.
And now on to the day. I loaded everything up the night before and parked the truck in the garage in case it rained. I got up about 6:30, left the house at 7:45 and began unloading at 8:00 for a 10:00 start time. I was mainly concerned about the tent since occasionally they are hard to get started out. The crafter next to me was there to help but fortunately I did not need her. With the tent up, I setup my pallet display. It was very easy to put together. Next I setup the table and put on table cloth. I then started displaying my "stuff". I referred to my previously mentioned pictures to hang the signs. I am so glad I did the setup at home as it saved me tons of time by doing this. Then I got everything on the table and I also had two side tables for sale and I displayed a couple of things on them. I leaned two of my vertical signs against the front posts of my tent. It started raining about 9:50 so I ended up scooting everything in a little to keep it dry. The good news, it was 60% chance of thunderstorms for most of the day but it only rained for about 10 minutes. Then it was sunny, gorgeous and humid the rest of the day. Here are a few pics of my booth.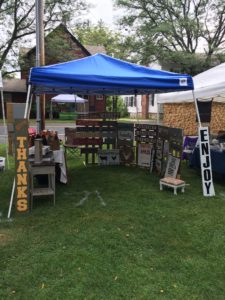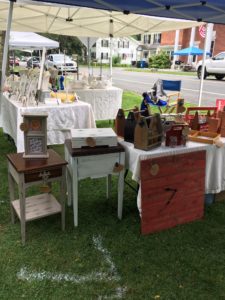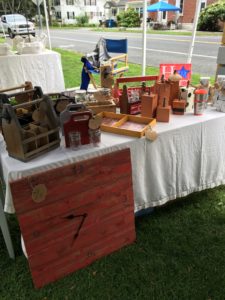 Now, on to the crowd. The thing about a craft fair is is it rains, you completely wasted your time. The other major thing is what else is happening in or around town on that day. From 10:00-11:00 was slow. I am guessing the short rain shower scared some people away. People starting showing up about 11:00 and it was a steady flow of people until about 1:30. By 2:00 it was dead. After 2:00 I only had two sells but one was my most profitable sale of the day. One of which was one of the ladies that only had a credit card earlier. She came back with cash. The other was a side table that I had refinished. You can read about it here Side Table Makeover.  Notice in that post how I acquired that cute side table. I sold it for $50. Of course, I did not tell it's new owner that I got it out of someone's trash. About 3:30 I really wanted to start packing up but I am glad I didn't. I defintely would've lost my last sale. My biggest selling item were these utensil holders. I sold them for $30 each. Except, to a lady who bought 3 of them plus a couple of other things and I gave her a $5 discount. About 4:50 I did start packing up. By 5:35 I was loaded up and headed home. It was a long day of standing.
In summary, here are some pointers I will share with you.
Order a Square so you can accept credit cards.
Dress professionally. I'm not saying a business suit but now is the time to leave sloppy clothes at home, have a friendly smile on your face and speak to people as they mosey by. Presentation is key. If this means changing shirts in the bathroom after you get setup then do it.
Pre-plan your setup to make sure it all works within your space size and take pictures to look at for your actual show setup.
When setting up your booth, make sure people can see what you are selling when they walk by. In other words, do not set it up so they have to walk into your booth to see things. Odds are, they will walk right by. I think people are scared if they walk in they will feel some kind of obligation. People do not come to craft fairs looking for a particular item like when you go shopping because you need a pair of shoes. Craft fair purchases are impulse buys because you don't know what will be there until you arrive. Unfortunately, I think I made this setup mistake.
Do not pack up early. There are two reasons for this. One, you don't want to miss a sell because you packed up 20 minutes early. What's 20 more minutes when you have already been there for 8 hours. I would've lost my most profitable sale of the day. Second, if the organization hosting says it ends at 5:00 then the customers get upset when they show up at 4:30 and everyone is packed up. You're risking being accepted as a vendor the next year if you do not follow the rules.
Stick with the season. You might have some awesome Christmas decor that would be a big hit at a November sale but people don't want Christmas decor in July.
If you want to do a craft fair, plan to do at least three. It's like starting any other business. You have to have inventory to open your store but it's unrealistic to think you will sell it all your first day of business. I think to be profitable you have to go to several.
DO NOT spend a bunch of $ of booth setup. You could easily spend several hundred dollars on tent, displays, business cards, etc. Borrow what you can from friends and family. If you do well after a few shows, then gradually buy what you need.
You need tent stakes. According to the veteran vendor next to me, if you're tent blows away and destroys someone else's tent, products, etc you are responsible. In some cases you cannot use stakes because of wires or pipes in the ground or if you are on concrete. In this case, you have to use weights. I know you can buy weights but you can also make them by filling pvc pipe with concrete. There are many diy instructions for these online.
And last, get to know the other vendors. A lot of these people do this multiple times a year. The vendors on both sides of me have been doing this for more than 15 years. They know which fairs are good. They watch your booth when you have to make a quick trip to the bathroom. And, they are full of useful information. All the vendors were super nice people and they are like a little family because they have been spending Saturdays together for years.
I hope to be able to do a few more shows in the near future. As I said before, one shows isn't enough to determine if it is worth my time. I want to do a minimum of three. And I plan to choose shows that cost $75 or less for a booth for a day. If you are considering doing a craft fair, go for it. You never know until you try. Odds are you will at least cover your costs if you are wise and careful about what you spend. I actually profited a little, not much, but a little. And when I say profit, I mean, I know what I spent for all my costs including materials, booth fee, setup/display costs, etc. You would be surprised at the number of people that do not know their costs and without knowing this you will have no clue if you made money or not.
Best of luck to any future craft fair vendors! Hopefully this helped or encouraged you in some way. Let me know if you have any questions. Happy crafting!
Visit these weekly link parties (where I share my projects) to get more great ideas:
MONDAY
Show and Share at Coastal Charm ⋅
TUESDAY
Tuesday at Our Home with Our Home Away From Home ⋅
Thrifted Accessories & Vintage Bliss
WEDNESDAY
THURSDAY
FRIDAY
Shabbilicious Friday Link Party ⋅
Pin Me ⋅
SATURDAY
Snickerdoodle Create, Bake, Make ⋅
SUNDAY
Get Your DIY On (First Sunday of the Month)