If you have never visited the Department of Motor Vehicles in Connecticut, then take my advice and try not to. The good part is, they offer Wi-Fi in their offices. The bad part is pack a lunch, your computer, a good book and plan to stay a while. I am prepared and therefore able to make good use of my time by writing this blog while I sit here for multiple hours.
I am working on signs for the upcoming craft fair. Pray for good weather so people show up and all this work isn't for nothing. I love how the Wash & Dry sign turned out so I thought I would share it. It would look great in any laundry room. I am also trying to figure out a way to display all these signs. My thought now is to use pallets (cheap wood) to make a fence to hang them all on. I will also have a table for the mason jar totes, bottle totes (if you missed these take a look at my post from last week) and other things I have made. If any of you have any inexpensive and cute ideas for displaying the signs please share them with me.
I switched directions for a few hours and did make a few signs this week in hopes of selling them to my husband's work. They have a rustic theme and needed some bathroom signs for the golf course. If they do not like them, then I can simply sand off the golfer, add a colonial figure and sell them at the craft fair. I beat this wood a lot to make it look old. I've read that a chain works good but I don't have one so I opted for a hammer, screwdriver and metal clamp. I also drilled a few screws in them and then removed to make it appear as though it was recycled wood. Then I stained and polyurethaned them. Once dry, I painted with watered down white and immediately wiped it off. Once that was dry I used my silhouette machine to make the stencil and painted with a watered down white chalk paint. After that dried, I used steel wool to "knock down" the stencil. Wiped them off and called it done. I did not wax them because they do not really need protection and I didn't want them to have a shiny look. Now, let's hope they buy them and order 2 more for the other restrooms.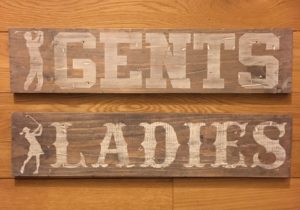 And, here are a few signs my mom made for me sell. They look really cute hanging in a kitchen, especially if you have a soffit (a boxy area between the top of your cabinets and the ceiling). And now you know where I get all my craftiness from, well 1/2 because my dad plays a big role in this also. And then there's my father in law who gave me all the tools a few weeks ago that I cannot wait to get moved up north next month.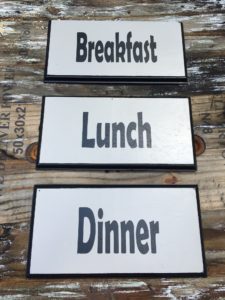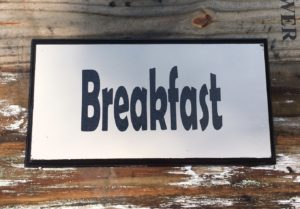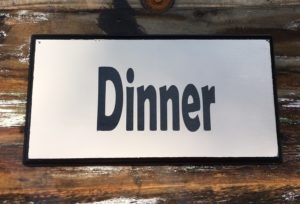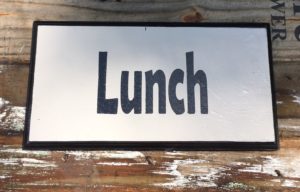 And last, any ideas for this large board? It is very heavy but a pretty piece of wood. The person I got it from said it was an antique toilet tank cover. As in, when the tank was wood, hung on the wall and a separate piece from the seat part. It measures about 24 inches wide by 18 inches tall. It is very heavy so my thought is a "family" saying and it would go great sitting on a mantle. If you have any suggestions let me know in the comments below.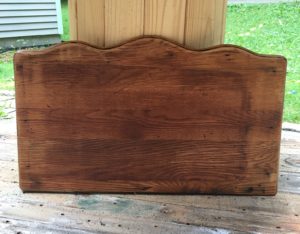 Stay tuned for more craft fair samples next week and in 2 weeks I will share with you how it went along with pictures of my booth, what sold and didn't, etc.
Visit these weekly link parties (where I share my projects) to get more great ideas:
MONDAY
Show and Share at Coastal Charm ◊
TUESDAY
Tuesday at Our Home with Our Home Away From Home ◊
Thrifted Accessories & Vintage Bliss ◊
WEDNESDAY
THURSDAY
FRIDAY
Shabbilicious Friday Link Party ◊
Pin Me ◊
SATURDAY
SUNDAY
Get Your DIY On (First Sunday of the Month)