What a crazy, hectic and fun three weeks I have had. I left here 3 weeks ago, heading south to visit all of our family for a few weeks and wrecked about 500 yds down the street. It totaled my car that I have had for 9 years and still loved. But, we were not hurt and that is the most important part. I spent the first week down south trying to figure out what kind of car I wanted and finally settled on one. Then I was able to visit family, work on projects for the upcoming craft fair, relax a little and am back home safe and sound. But, I have completely left my blog to the wayside while trying to get everything done. Now, I am only a couple of days behind on it and trying to get caught up and back on schedule.
I am very excited about some new tools I got from my father in law while down south. I got a better jigsaw, better skil saw, miter saw, belt sander and router. I really wanted the table saw but I have limited space so I passed on it. Unfortunately, my new car does not hold nearly as much as my van did and I had to leave most of it and will not get it until the end of August. I already miss my van.
Lately, I have only been working on signs and other things to sell at the craft fair in our town on August 6th. My mom and dad were a huge help and have done more than me on what I have so far. We made several signs and I still have more to go. The two things I really wanted to get done while at my parents were the utensil holder and the bottle totes. It would have taken me forever to do it with the tools I have and the bottle totes would have been very difficult, if not impossible, without a nailer and some of the other tools my dad has.
Here are a few pictures of the bottle tote and utensil holder. Stay tuned next week to see more of the things I am making to sell at the show. And, mid-August I will be sharing my booth and give you a run down on how it went. This is my trial show because it is only one day and close to home. If it goes well, I hope to do more shows this fall and next spring.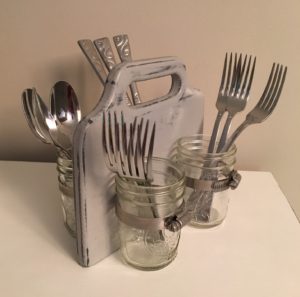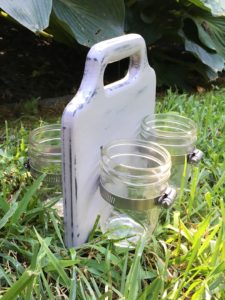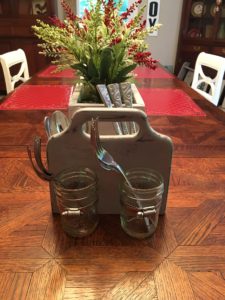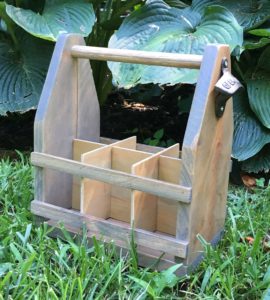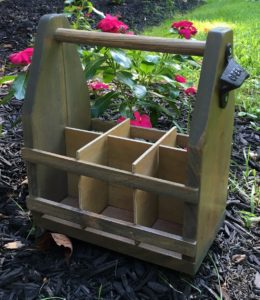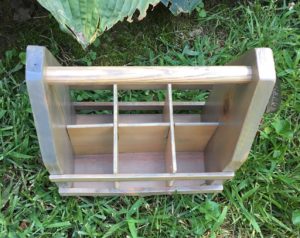 Visit these weekly link parties (where I share my projects) to get more great ideas:
MONDAY
Show and Share at Coastal Charm ◊
TUESDAY
Tuesday at Our Home with Our Home Away From Home ◊
Thrifted Accessories & Vintage Bliss
WEDNESDAY
THURSDAY
FRIDAY
Shabbilicious Friday Link Party ◊
Pin Me ◊
SATURDAY
SUNDAY
Get Your DIY On (First Sunday of the Month)