Several months ago I started struggling with trying to keep my week's organized. I missed a couple of things because I didn't have it written down. I have good intentions every time I buy a calendar but then I only use it a few weeks and it becomes to much trouble. I use my phone for a lot but it's just not the same for me. I found some scrap wood in my garage and made this weekly calendar. It has worked so well for me. I walk past it multiple times a day so it becomes a picture in my memory and helps keep me organized.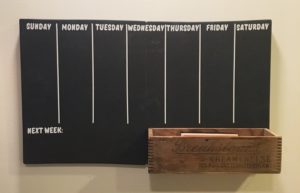 Right before school was out for the summer, I added the chore jars. It helps the kids know exactly what they have to do when they get up every day. Again, I used a piece of scrap wood I had. Continue reading for the how to.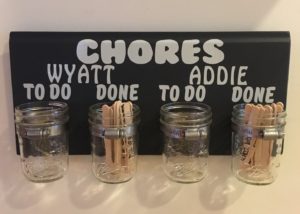 CALENDAR
The wood I had on hand was a 1×12. I cut 2 pieces about 12 inches long and glued them together with wood glue. Once it dried, I sanded it to make it smoother. I then added 2 coats of chalkboard paint. While it dried I used my Silhouette machine to cut the day and lines out of permanent vinyl. If you do not have a silhouette machine you could use a white paint pen to easily do this. I started with centering Wednesday and then added the days evenly on both sides from there. Then I added "Next Week" at the bottom so I would not forget to add future happenings to my calendar the next week. I now add more to this area than just what is happening next week. I found this old cheese box at a local antique store and screwed it on to hold my chalk and eraser. Then, I seasoned the chalkboard (for directions on how to do this visit Cabinet Door to Chalkboard). I use Chalk Markers that I bought at Michael's. I love them because they write finer than regular chalk.
CHORE CHART
This was a scrap piece of siding we had left over. I painted it with the chalkboard paint also because I wanted it to be the same color since they are hanging on the same wall. I used my Silhouette machine and permanent vinyl for the letters on this also. I then measured equally for the 4 jars and screwed the hose clamps into the board. I used a flat head screwdriver to tighten the hose clamp around the jar, added hangers on the back and places it on the wall. I used popsicle sticks and a marker to write the chores. Each morning I place the sticks in the "To Do" jars and as the kids complete the chore they move the stick to the "Done" jar. I am sure the kids will get bored with it very soon but for now they think it is kind of fun.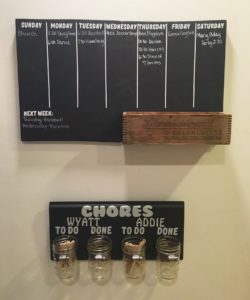 Visit these weekly link parties (where I share my projects) to get more great ideas:
MONDAY
Show and Share at Coastal Charm ⋅
TUESDAY
Tuesday at Our Home with Our Home Away From Home ⋅
Thrifted Accessories & Vintage Bliss ⋅
WEDNESDAY
THURSDAY
FRIDAY
Shabbilicious Friday Link Party ⋅
Pin Me ⋅
SATURDAY
SUNDAY
Get Your DIY On (First Sunday of the Month)