If you have ever bought replacement cushions for your outdoor furniture you know how expensive they are. I knew I wanted to build my own love seat but as I was pricing cushions prior to making it,  I decided there was no way I was spending that much on cushions. On the Ana White website she made an outdoor couch that fit a twin mattress. A twin size is larger than I wanted on my deck but it did give me an excellent idea. Why not make one that fits a crib mattress!!!! Crib mattresses are relatively cheap. I bought mine at Big Lots for about $30.
I love my outdoor love seat and am very proud of it. It was a lot of work with the minimal tools that I have. I do not even own a table saw. I made this with only a circular saw, drill and some other minor tools. This doesn't mean I would suggest doing it with a circular saw but I did so I know you can to. Lowe's or Home Depot will cut the 2X4's for, I believe, $0.50 per cut. I would definitely go this route next time.
Here is what I used:
Tools – Drill, Countersink Drill Bit, Circular Saw, Sander
Materials –  12-2X4's, 2.5 inch Screws, 4.5 inch screws, Wood Glue, Wood Filler, Sand paper, Paint, Crib Mattress, Crib Sheet, Pillows, Pillow cases
Here are your wood cuts and a picture description –
2 @ 33 inches (back legs)
5 @ 51 inches (back rails and front rail)
19 @ 28 inches (arms, sides, slats) (you might not want as many slats as I used but I wanted to be able to sit on it without putting the cushions also)
2 @ 27 inches (front legs)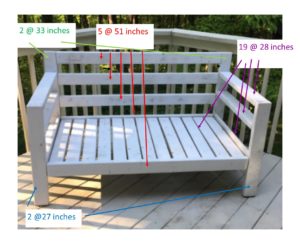 I know there are better ways to do this, mainly a table saw and kreg jig would make it easier but again, I used what I had.
After it was all cut, which took me a while with my circular saw, I started building. I will not tell you in these directions each time to predrill with your countersink bit but anytime you add a screw you need to predrill the hole with your countersink bit. And, you will also need to glue each piece prior to screwing. You can use a normal bit but your screw heads will show when it is finished. So, this is what I did. Note that 2×4's are really 1.5X3.5.
Build the back rail – Use 4.5′ screws for the back rail drilling each from the outside of 33′ boards into 51′ boards and don't forget to glue

The first  51′ board (back rail) sits flush at the top of your 33′ boards (back legs).
The second 51′ board should be 3′ below the first one (3′ gap between).
The third 51′ board should be 3.5′ below the second one (3.5′ gap between).
The fourth 51′ board should be 4′ below the third one (4′ gap between).
There should be 8.5′ from bottom of fourth board to bottom of 33′ boards (back leg).

Build and Attach the Arms

Screw the top arm rest into your 27′ boards (front legs) on both sides at the top.
Measure 27′ up on your back leg on both sides. This is where the top of your arm rest board will sit. Screw both of the assembled legs into the back rail. It should now stand by itself and be level.
Measure down 4′ from the arm rest of all 4 legs. Screw in the second side rail at this point on both sides.
Measure up 8.5′ from the bottom of all legs. The bottom of the bottom side rail will sit at this point on both sides.

Front rail support

Measure up 8.5′ from the bottom of the front legs. The bottom of the front rail will sit at this point on both sides.
Your main frame is now built. Your front rail and bottom back rail should be level so that it sits level.

 Slats

You do not have to have this many slats. I did because I wanted to be able to semi comfortably sit on it with out the cushions. As you can see I added 13 slats.
They will sit approximately 1/2′ from the top of the front and back rail as you can see in the picture below. This will keep the mattress from sliding off. I drew a line 1/2 inch down on the front and back rail all the way across so I would know where to place the slats evenly across.
I first added the ones on each side.
Then measure to the center and add the center slat.
Then add the other slats to make them evenly spread across.
You may have to hammer some to get them in.

Fill holes – Use wood filler to fill all your screw holes.
Once filler has dried, sand.
Paint your loveseat. (You can also paint this prior to assembly and it might make it easier, then you could just touch up your screw holes).
I bought my crib mattress, crib sheet, pillows and pillowcases at Big Lots. I used 2 king size and 2 standard size pillow. I then made the 4 decorative pillows.
And now you have a SPLENDID outdoor loveseat.
****Please read and understand the directions before you begin.****
If you have ANY questions please email me or post a comment on this post. I typically respond within 12 hours and will be happy to help you.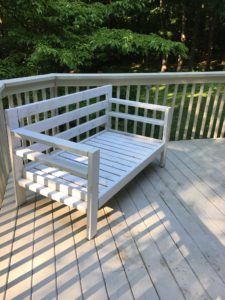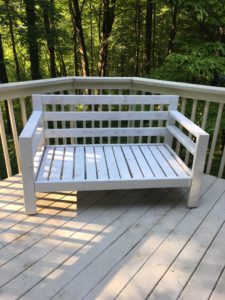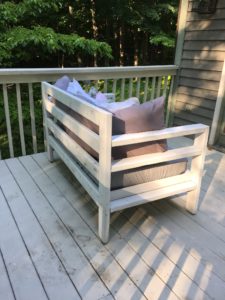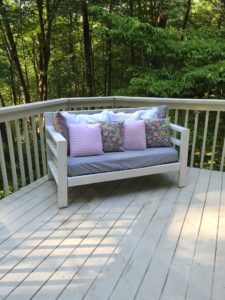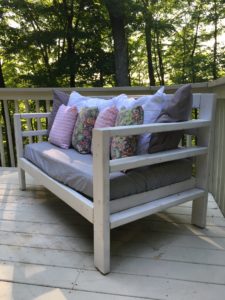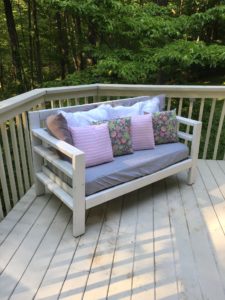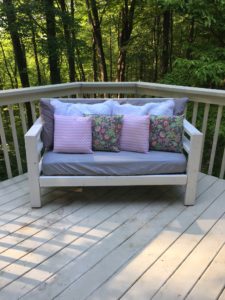 Visit these weekly link parties (where I share my projects) to get more great ideas:
MONDAY
Show and Share at Coastal Charm ⋅⋅
Merry Monday ⋅⋅
TUESDAY
Tuesday at Our Home with Our Home Away From Home ⋅⋅
Thrifted Accessories & Vintage Bliss ⋅⋅
WEDNESDAY
THURSDAY
FRIDAY
Shabbilicious Friday Link Party ⋅⋅
Pin Me ⋅⋅
SATURDAY
SUNDAY
Get Your DIY On (First Sunday of the Month)