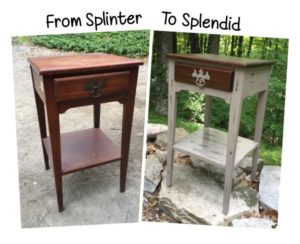 You are not going to believe how I got this end table! I was driving home from my daughter's dance class a couple of months ago at about 5 in the afternoon and I saw a yard sale. I had 3 kids in the car and I have learned that yard sale shopping with kids can cost me more money than I want to spend. But, as I passed the end of their drive, there was a pile of stuff with a big sign that said "FREE STUFF". I could not pass that up. I turned around and went back. Out of the pile, I got this table and a wooden doll bed and high chair. I cleaned up and painted the doll stuff lime and purple and my daughter loves it. Here's a picture of the doll furniture.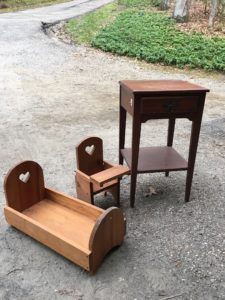 The table has been sitting in the garage since. It was a little wobbly. When my parents were visiting I had my dad re-glue it (He loves having projects to work on while he is here). It is perfect now, no more wobbling! And since he fixed the wobble I needed to finish it so he could see his contribution to the finished product.
Here is a before of the top. It was rough.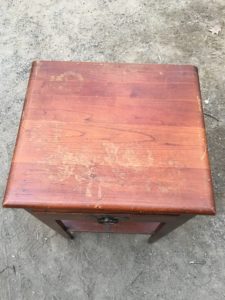 First, as always, I cleaned it up good. I debated on staining or painting the drawer front and decided to stain it. With my electric hand sander, I sanded the top good and got all the knicks and scratches out. There were also a couple of other places that I sanded a little to get out more scratches. I then got all the dust off and stained the top and drawer front. While I had the stain out I went ahead and stained the other places I had sanded. I let that dry overnight and added a coat of polyurethane on top and drawer front. I shellaced the rest of it to avoid bleeding through the chalky paint. I let that dry overnight, only because I had other things to do. Shellac is normally dry and ready to be painted over in 20-30 minutes. Then, I painted the rest of it with chalky paint that I mixed myself. Super easy (1/2 cup plaster of paris dissolved in 1/2 cup warm water, then add 1 cup of latex paint and mix well)! I ended up doing 3 coats because I did not want to see any brush marks. Once dried, I distressed the paint and then cleaned off the dust. I also painted the original drawer pull & backplate. I used Valspar Sealing Wax on the painted section, drawer pull & backplate and that part was done.
I then lightly sanded the top and drawer front and cleaned it up. I added one more coat of polyurethane. These 2 steps are what are recommended and I strongly suggest doing as it makes it much smoother. I put it back together and it is beautiful.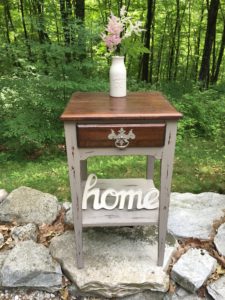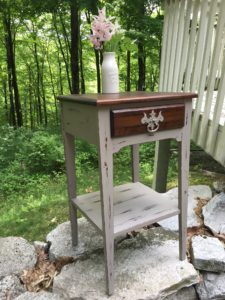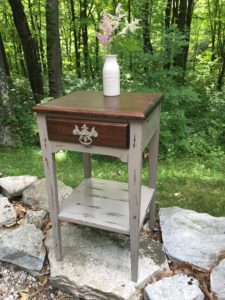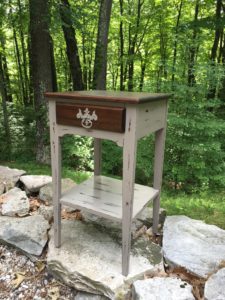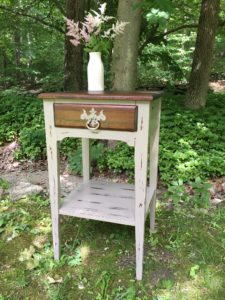 This was a great From Splinter To… Splendid makeover as it was in bad shape when I got it. I should take it back to the original owners and show it to them. I bet they wouldn't even recognize it. It's crazy to think of all the pieces of furniture that are trashed that could be beautiful with a little TLC.
Visit these weekly link parties (where I share my projects) to get more great ideas:
MONDAY
Show and Share at Coastal Charm ⋅
TUESDAY
Tuesday at Our Home with Our Home Away From Home ⋅
Thrifted Accessories & Vintage Bliss ⋅
WEDNESDAY
THURSDAY
FRIDAY
Shabbilicious Friday Link Party ⋅
Pin Me ⋅
SATURDAY
SUNDAY
Get Your DIY On (First Sunday of the Month)