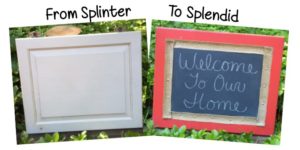 I found this cabinet door several months ago in our basement. Not that my basement is that messy but, there is a corner that is just reusable supplies such as our window screens, etc. I pulled out the cabinet door with no clue what I would do with it. Then, every time I saw it sitting in my "to do" project pile in the garage I would think, that's going to be a sign. Most of the plans for my projects change as I start working on them and this one was no different.
I first painted the door frame with red chalky paint that I mixed myself. (For the recipe, see this post Mantel Clock Makeover) I planned to paint the center panel gray and add a cute saying to make the sign but this is when I decided it would make a great chalkboard. So, I put up the gray paint and pulled out the chalkboard paint. I painted the center panel with 2 coats of chalkboard paint. Then, I let it sit there for a couple of months. Every time I looked at it I could not decide whether to paint the slope section red or chalkboard. I really didn't love either. Then, on one of my Hobby Lobby shopping trips I walked by the fabric trims section and saw this jute trim and knew that my chalkboard needed some. I bought it and it sat in my garage for another month until I finally decided to finish it yesterday.
Yesterday I had to touch up a few chipped spots from it sitting in the garage all this time. Then, I sanded the edges and corners to distress it a little. I cleaned off all the dust and added a coat of Valspar Clear Sealing Wax. If you have never used this, try it. It is easy to apply for indoor projects. I was going to glue it but wasn't sure the corners would stay. Luckily, before I started gluing I remembered I had these upholstery tacks. So, I tacked it down using my center find ruler (very handy). I then "seasoned" the chalkboard paint, added a hanger and it is done. To "season" chalkboard paint you rub the entire chalkboard with a piece of chalk laid flat, wipe clean and repeat rubbing in other direction. Now it is ready to hang and use.
Instead of it being a permanent sign, I can now change the wording any time I want. And now this old cabinet door is SPLENDID!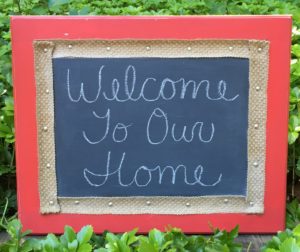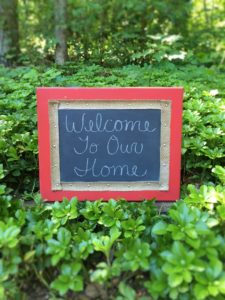 Visit these weekly link parties (where I share my projects) to get more great ideas:
MONDAY
Show and Share at Coastal Charm ◊
TUESDAY
Tuesday at Our Home with Our Home Away From Home ◊
WEDNESDAY
THURSDAY
FRIDAY
Shabbilicious Friday Link Party ◊
SATURDAY
SUNDAY
Get Your DIY On (First Sunday of the Month)