This cutting board turned out much cuter than I imagined it would. I must give credit where credit is due. My dad cut out the pig. I never would've done this good with it.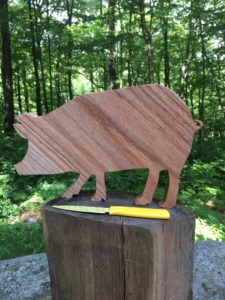 I wanted something unique for my daughter to give her teacher as and end of year gift. She loves pigs so why not a pig cutting board. Everyone can use a cutting board.
I bought a 12X24 inch piece of oak at Home Depot. I believe it was about $15. You need a hard wood to make a cutting board. Maple is probably the best to work with but I chose oak.
I first used my Silhouette Cameo to make and cut my pig stencil. I cut the stencil out card stock. I then traced it onto my board. It is about 12 inches from nose to tail. At this point I had all intentions of cutting it myself but since my dad is in town  and is much better with a jigsaw than me, he cut it. He did an excellent job. Look at the detail on the pig's hooves and tail.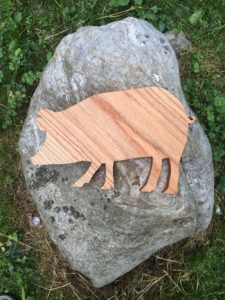 Then I sanded it around the edges and smoothed out a few places. Next, I treated it to make it food safe. I used Howard's Cutting Board Oil. I bought it at the local hardware store for $10. There are other things you can use but I could get this locally. I added a total of 4 coats as the original treatment, waiting about 30 minutes between coats. I plan to give  the rest of the oil to the teacher since she will need to apply a coat every so often, depending on how often she uses it.
She is going to love it!!!!!
Visit these weekly link parties (where I share my projects) to get more great ideas:
MONDAY
Show and Share at Coastal Charm ⊃
TUESDAY
Tuesday at Our Home with Our Home Away From Home ⊃
WEDNESDAY
THURSDAY
FRIDAY
Shabbilicious Friday Link Party ⊃
SATURDAY
SUNDAY
Get Your DIY On (First Sunday of the Month)