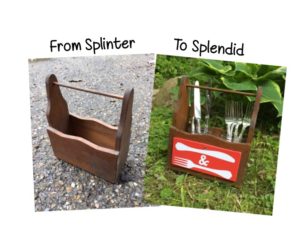 I finished another easy project this week. With school ending soon, I had two all day field trips I chaperoned with my kids, a half day school project/craft and my parents came to visit. I am looking forward to June 14th when school is finally out for summer and some of the running is over.
I bought this cute little tote thinking I would paint it. It's pretty small. It will hold two pint size Mason jars. I brought it home and cleaned it up with Lysol wipes and a toothbrush and Q-Tips in the corners. I then set it on my kitchen counter and set a couple of small plants my kids planted for me for Mother's Day in it. It's been sitting there a couple of weeks and it has grown on me. I decided a week ago it was to cute to paint it but it still looked blah.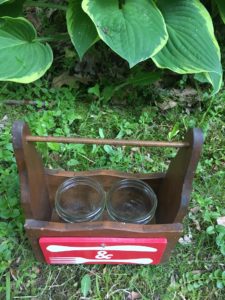 I finally figured out what I wanted to do to it. So far I have figured out two uses for it: 1) to hold 2 plants in pint jars and 2) to hold forks and knives in pint jars for a cookout. My mind went to work and I decided to make a reversible sign for it. I might make one more sign and who knows what other uses I come up with and will need more signs.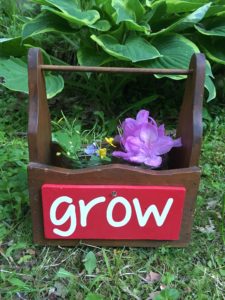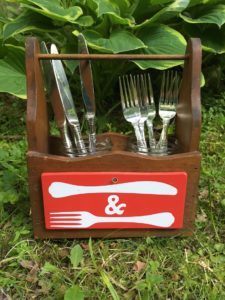 I found a piece of 1/4 inch mdf in my wood stash and cut it to size with my jigsaw. I then spray painted it red. I used my Silhouette Cameo and cut two designs on white adhesive vinyl. I decided to put "grow" on one side and the knife and fork on the other. I think I might do at least one more small sign in lime green to match my outdoor table set I posted about last week (if you missed it you can see it here – Candle Holder). I think when I do it I will do one side with a fork and spoon and the other that says, "forks and napkins" in a cute font. But the possibilities with my reversible & interchangeable sign are endless.
I love how it turned out. It added color but nothing permanent. I can easily remove the small nail and still use it without a sign at all. There will be a tiny hole on one side that nobody will ever notice. And now it is SPLENDID!
Visit these weekly link parties (where I share my projects) to get great ideas:
MONDAY
Show and Share at Coastal Charm ∝
TUESDAY
Tuesday at Our Home with Our Home Away From Home ∝
WEDNESDAY
THURSDAY
FRIDAY
Shabbilicious Friday Link Party ∝
SATURDAY
SUNDAY
Get Your DIY On (First Sunday of the Month)