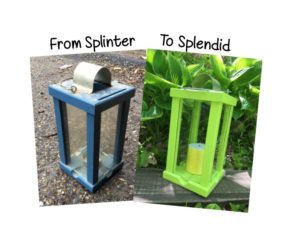 I bought this candle holder in a group of about 10 things for $20. This was a super easy project but that's what I needed this week with all the end of school things going on. Spring has finally sprung in the Northeast and now I want to be outside, so I am working on my outdoor eating space. My parents gave me a table that they painted white on top with lime green legs. And, my mom made me cute reversible placemats to use on it. One side is lime with white polka dots and the other side is yellow with white dots. This candle holder makes a perfect springy centerpiece. I can also put flowers in a small mason jar and display those instead of the candle. Now, I just need to get my chairs painted to match the table. Maybe next week!!!!
This candle holder was very dirty but I could have easily cleaned it and used it. Instead, I wanted it lime green to match. I disassembled it by removing all the screws, cleaned it all up and spray painted the wood pieces. After it dried, I put it back together and I thought I was done. I had a white candle that's the perfect size but decided I wanted a yellow candle. Another easy fix! I found yellow with white polka dot cardstock in my stash of paper. I cut it to size and mod podged it on my candle. It will not burn good now but I never light them anyway because… I forget to blow them out. I like it better with the small plant. I lined a pint jar with the same yellow polka dot paper and placed the small plant (which is in a small cup) in the jar.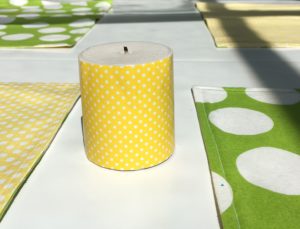 The next time you need decor accessories for your home and you don't want to spend a small fortune, go to a yard sale or junk store. There are so many things out there that just need to be cleaned up and spray painted. It makes them special when you add your touch to it and make it exactly how you want it. I would not have found anything that matched as well as this does. Simply look past the dust and dirt and envision what it could be with a little paint. You can probably make it splendid!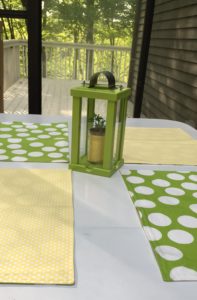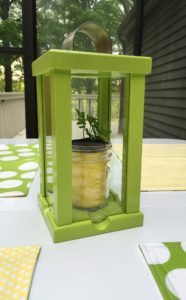 Visit these weekly link parties (where I share my projects) to get great ideas:
MONDAY
Show and Share at Coastal Charm ∝
TUESDAY
Tuesday at Our Home with Our Home Away From Home ∝
WEDNESDAY
Wow Us Wednesdays with Savvy Southern Style ∝
THURSDAY
FRIDAY
Shabbilicious Friday Link Party ∝
SATURDAY
SUNDAY
Get Your DIY On (First Sunday of the Month)