BEFORE: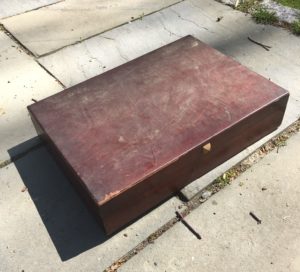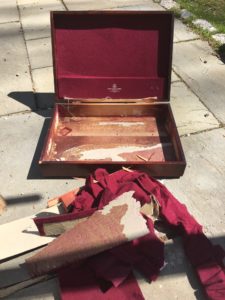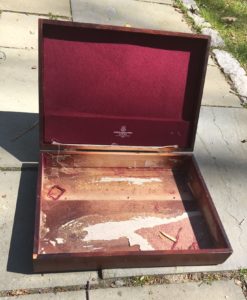 AFTER: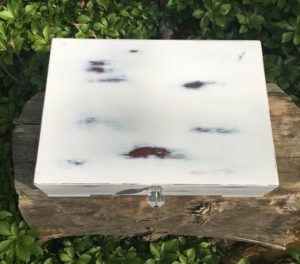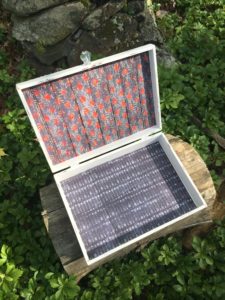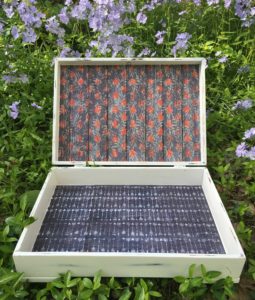 This flatware box had seen better days. With a little work it turned out very cute. Even though I am calling it a "jewelry box", it could be used for many things. It would be beautiful on a coffee table storing all the tv remotes.
I started by tearing out the insides. When they glue in the velvet liners they do not spare any glue. I ended up scraping it with a paint scraper and then I had to use my sander to get final parts of it. This was the hard part!
Next, I sanded the top a little to get out a few rough spots in the wood. Then, I cleaned it up to paint it. I used Valspar Kid's Glove Chalk Paint and added 3 coats. At this point, I decided it needed something else so I added the "feet". These are simply rectangle cut pieces of wood approximately 3/4 inches thick, 2 inches wide and 3 inches long. I had to sand one of them down so that it wasn't wobbly (Wobbly things make me crazy!). I then glued them on with wood glue and let it dry for several hours. Once the glue was dry, I painted the feet. I then distressed on the inside and outside. I added 2 coats of Annie Sloan wax.
I had to make the inside pretty so I mod podged craft paper in the inside top and bottom. To do this, I first had to cut my paper to size. You cannot overlap the paper or you will notice the crease in it when it is finished. I painted (with a small foam brush) the bottom with mod podge and then lightly painted the paper with mod podge and glued it in. I used a small plastic scraper to get out all the papers. You have to be cautious when doing this or you will tear the paper. I repeated this for the paper in the top. I let it dry for a couple of hours and then painted a very light coat of mod podge on top of the paper. Make sure to get all the edges good but do not overdo it on mod podge. If you have never tried this I would strongly suggest practicing on a scrap piece of wood. Here are close ups of the craft paper I used. Not to fancy, more country/rustic.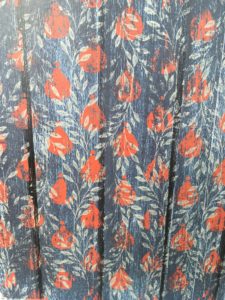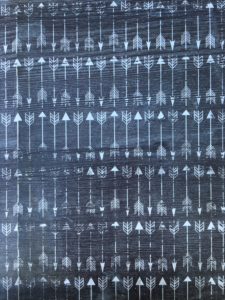 I wanted to finish it with a glass knob so I drove to one of my favorite junk stores to get one. My lesson learned that day, do not over tighten glass knobs, they do break. The next day I stopped in Home Depot and bought another one. It finished it off with a nice added touch.
And now it is SPLENDID!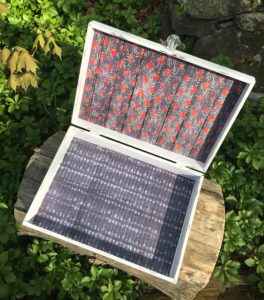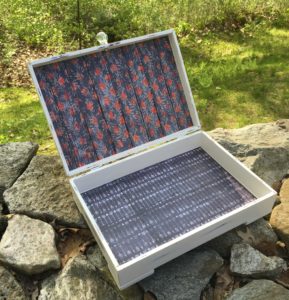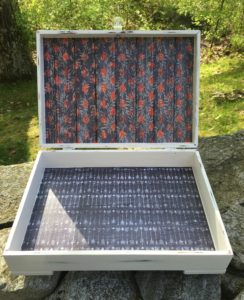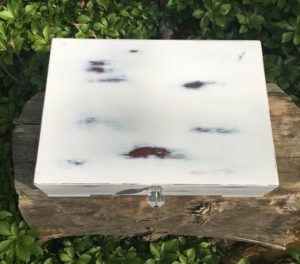 MONDAY
Show and Share at Coastal Charm ∝
TUESDAY
Tuesday at Our Home with Our Home Away From Home ∝
WEDNESDAY
Wow Us Wednesdays with Savvy Southern Style ∝
THURSDAY
FRIDAY
Shabbilicious Friday Link Party ∝
SATURDAY
SUNDAY
Get Your DIY On (First Sunday of the Month)