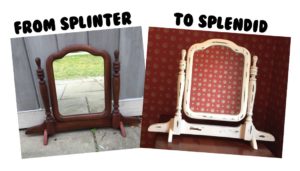 This was my only purchase last weekend. Originally, this mirror attached to a dresser. I bought it after someone had added the feet on the bottom to make it free standing. It is now on my daughter's dresser and she loves admiring herself in it.
After I brought it home, I took it apart for easier painting. The brackets that hold the mirror on and make it swivel were covered in rust. I soaked those in vinegar with a little salt for 3 days while I worked on painting it. Of course, it was dirty so I had to clean it before I painted. I taped off the mirror so I would not have to scrape paint of and risk scratching it. I then added a step that I do not always have to do. I painted a coat of Bulls Eye Clear Shellac. I was afraid the stain on the feet would bleed through the chalky paint and this step will prevent that from happening. Since I had it out, I went ahead and Shellaced it all. Shellac dries very quick (15-20 minutes). I painted 3 coats of Valspar Chalky Paint in Kids Glove color. Once dried, I added a coat of Annie Sloan wax, buffed it and then distressed. I distressed this a lot more than I usually do but the dark finish that come through was nice so I just kept sanding. I then added another coat of wax and buffed.
This should have been an easy project but there is always something that does not go as planned. At this point, I removed the brackets from the vinegar solution and scrubbed with steel wool. Tah dah, all the rust was gone. I soaked them for about 10 minutes in a jar of water with a tbsp of baking soda. Then I towel dried, wiped with alcohol to get really dry and wiped a coat of vegetable oil on them to prevent further rusting. This process worked great until I put it all back together. The mirror would not stay up. I think the rust tightened the swivel part enough to hold it upright. See the picture below that shows how the small rod slides into the other piece to make it swivel. I tried a couple of things that did not work (toothpicks, tape, spray paint, etc). I just needed something to get in there to tighten it. Finally, I put some E6000 glue on the end of the rod part and let it dry good before I put it back together. This was just enough gooey stuff in there to make it tighter. And now it works perfect.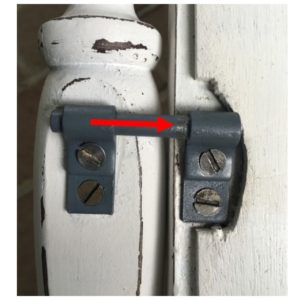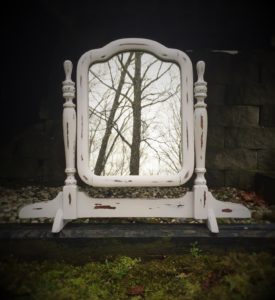 Link Parties:
Show and Share at Coastal Charm
Tuesday at Our Home with Our Home Away From Home
Wow Us Wednesdays with Savvy Southern Style
Shabbilicious Friday Link Party
Peace, Love, Linkup with Twenty Something in the 2010's