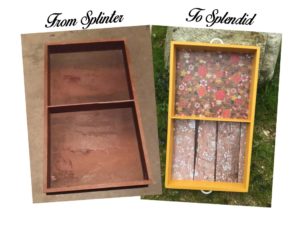 This is the last piece of my 3 things I got for $5. In case you missed the first two, you can see them here: Oval Frame and Mantel Clock. When I spotted the tray, I thought I would use it as a jewelry tray. But, now that it's finished, I think it is perfect on our kitchen counter to organize the clutter of keys, change, cell phones, etc. that come in nightly. And there's one side for my husband's stuff and one side for mine. It is approximately 9X18.
I started by cleaning it really good with Lysol wipes, a toothbrush and a wet rag. I knew I wanted to go with a color that would bring out the color in the liner that I used. I chose Inheritance by Americana Decor. It is between a yellow and orange. I added 2 coats and then a coat of Annie Sloan Wax. I sanded the edges a little and then added another coat of wax.
Next, I did the liner with card stock from Hobby Lobby. I first cut the floral printed papers on my Silhouette machine. It cuts nice perfect rectangles. I then had to trim it a little on one side since the divider piece is not perfectly square. I used Mod Podge to glue the liner in. With a foam brush I painted a thin layer of Mod Podge in the tray bottom and a thin layer on the paper making sure to get all the edges. The hardest part is after you put Mod Podge on this thin paper it wants to curl up. But, I was able to get it in and used a plastic scraper to carefully get out all of the air bubbles. I waited at least 30 minutes and added a thin layer of Mod Podge over the paper to seal it. It dries clear so you do not need to worry about getting it in on the wood that is not covered in paper. Nobody will ever know!
I still thought it needed something so I found these simple handles in my stash of stuff. I spray painted them white. Then, I carefully (so I didn't split the wood) attached them with my drill. My mom recently mailed me a center find ruler. She sent me a 12 in and a 36 in. It makes it super quick to find the center for projects like this.
It turned out nice. It's not to girly but the floral liner adds a feminine touch. It could be used for many different things besides a catch all or jewelry tray.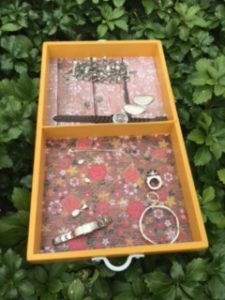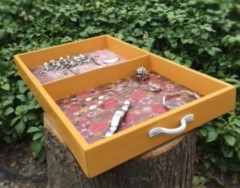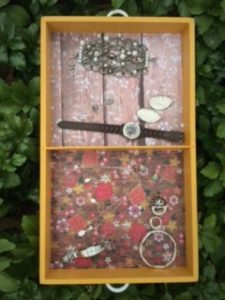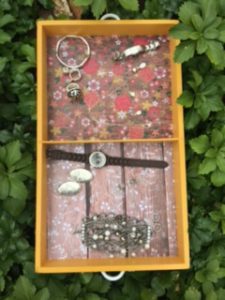 Link Parties:
Show and Share at Coastal Charm
Tuesday at Our Home with Our Home Away From Home
Wow Us Wednesdays with Savvy Southern Style
Shabbilicious Friday Link Party