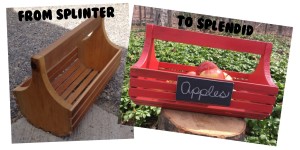 This is my favorite piece from the 4 things I bought for $10 a few weeks ago. It makes me want to eat apples instead of ice cream. And, I made my own chalk paint for this one. Keep reading to learn how. This tote is not small, 15 inches. It will hold a lot of apples, oranges, magazines or anything else you want. And the apples sign is chalkboard paint so you can put anything you want in it and simply change the sign.
The first thing I did was clean it really good with Lysol Wipes. I also used a toothbrush to get in between the slats. Then I cut the little sign from MDF board using my circular saw. I painted the sign with chalkboard paint. I let the paint dry for a couple of days and then I sanded/antiqued the corners and edges. VERY IMPORTANT: always season your chalkpaint.  To do this, rub your board with the side of a piece of chalk horizontally on board and the vertically on board and then wipe it off with a dry papertowel. It is now ready to use.
Now, on to the tote. I made my own chalky finish paint for this because I already had red paint. I mixed 1/2 cup of Plaster of Paris and 1/2 cup of warm water and stirred it until the plaster was dissolved. I then added 1  1/2 cups of red latex paint. I painted 3 coats on this. Painting all the slats was a pain but the paint dries fast so it really did not take long (I think I waited about 15 min between coats). I added Annie Sloan Wax (follow directions on can) and then sanded/antiqued it and added another coat of wax. If you are not conveniently located near an Annie Sloan dealer you can use Minwax Finishing Wax from a hardware store.
I love how this turned out and I only have a few dollars in it.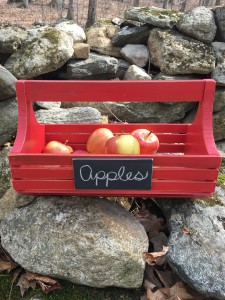 Link Parties:
Monday Funday with Creatively Living
Show and Share at Coastal Charm
Tuesday at Our Home with Our Home Away From Home
Wow Us Wednesdays with Savvy Southern Style
Vintage Charm with Adirondack Girl @ Heart