And, with my china in it.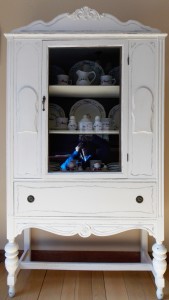 I want to start by saying, not all furniture should be painted. They are some antique pieces that are greatly devalued when painted. That being said, don't get carried away with chalk paint. I was hesitant about this one but love the finished piece. And if I decide later to go back, I can sand it and refinish it (which is what I would have done to refinish it anyway). This piece just seemed blah with my table, which is a lighter oak. It did not match at all and now it pops when you walk in my dining room. I used Annie Sloan Chalk Paint on this. I was excited to walk in our local hardware store and see that they are now selling Valspar chalk paint. I cannot wait to try it on my next project as it is a 10 minute drive vs. 1.5 hours for Annie Sloan. And when I decide to do a project, I want to do it now, not after I find a convenient day to drive 3 hours roundtrip to get my supplies.
The china cabinet was inherited from my husband's uncle.
Steps in painting:
I wiped it down good with Lysol wipes.
Painted with Shellac. I used Zinnser Bulls Eye Shellac. It is about $14 at Home Depot.
I then painted 2 coats of Annie Sloan Old White.
Once dried, I added a coat of Annie Sloan Wax.
Then the fun part, "antiquing" it. I distressed it on all the edges and especially around the decorative sections to really make those stand out. And then removed all the dust.
Then I added another coat of wax.
The more I look at it the more I love it. Here's a pic with my Christmas China in it.