This is now my eye catcher when you walk in the back door. I have been wanting a large clock for a while but hadn't found one that I liked that I could afford. So….. I made what I wanted (for a lot cheaper) and I love how it turned out.
There is always something I would do different and on this I would have bought larger clock hands. But that's an easy fix the next time I make a clock. It works for now.
Materials:
Pallet (free)
Paint for boards (depending on your finish) ($6 and have plenty left from a pint)
Clock Mechanism and Hands (I ordered from www.clockworks.com for $30 incl. shipping) – I got the High Torque C Cell Mechanism and 8 inch hands – If not sure, ask them, they are very helpful
Things I already had:
Stain for boards, Paint for #'s, Paint Brush, # Stencil (I made with my Cameo Silhouette but you can buy at craft store-or you can buy the wooden #'s, completely up to you and your tastes), Wood Screws
So if you have to buy ALL of the supplies my guesstimate on total would be about $60. I have $36 in it. But remember, you will have leftovers of everything but the clock mechanism.
Tools Needed:
Drill
Circular Saw (or table saw) – I used circular because I wanted it rustic and therefore not perfect cuts
Hammer & Screwdriver to disassemble pallet
HOW TO:
First, I disassembled the pallet. Sounds easy, right??? To do it without splitting the boards is not really hard just take it slow. I used a hammer and screwdriver and removed boards labeled 1, then 2 and then removed all the nails from the boards I used.
.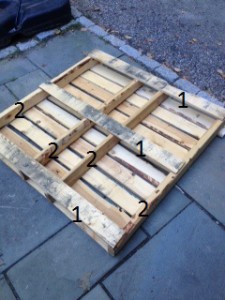 I then cut my boards the length I wanted them (mine were 28 in) and sanded them a little (not smooth but knocked off the rough spots). I then lightly painted the red on each board because I wanted the old barnwood look. Then I screwed it together like this.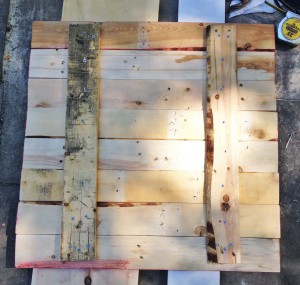 I found the center (mine is actually a little to the top because the center would have been in between 2 boards and I wanted my clock mechanism mounted in the middle of the board. I then measured carefully and painted the 3, 6, 9, and 12. Once those dried I applied the stain over top of paint. I then drilled my hole for my clock post. Inserted clock mechanism and hands and it was done. My clock did not come with installation instructions but I found them on the website I bought it from. Super Easy to do.
I once paid a lot of money for a large clock and apparently the company installed large hands on a low torque clock. Very annoying because it never kept good time. Had I known years ago I could have just bought a high torque clock movement and fixed it. So, if you are making a large clock with large hands (mine are 8 in) I would suggest the C Cell Battery High Torque from Clockworks.
If you have any question feel free to send me a message via Facebook or email.