I saw these old scales at a yard sale a couple of months ago and had to have them. They were $5. They add a little touch of character to my guest bathroom. I know, they look really gross! Trust me, the picture makes them look better than they did.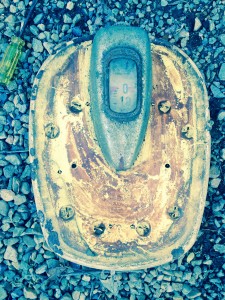 But I could not wait to get them home and get to work on them. The first thing I did was remove the dial cover and scrub it with soap and water. That is the only thing I took apart on the scales. I was terrified if I took it apart I would never get it back together. Then, I started sanding with my electric hand sander. I sanded them until they were smooth to the touch and almost all they way down to the metal. I also used steel wood on the hard to reach spots. I then sent them to work with my husband who sprayed out the inside with the air compressor. He swears a rat's nest came out of them!!! Then I sanded the rust off the dial cover.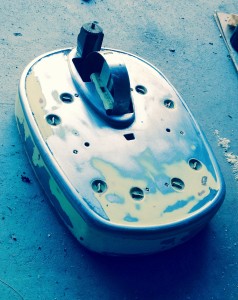 Now for the tricky part. As you can see below some of the numbers on the paper that was attached to the dial are missing. First, I copied it so I wouldn't mess up the original. Then, on the copy, I carefully calculated and with a black marker filled in the missing lines. And for the numbers I used my Silhouette Cameo and made new ones (you could have also retyped the # and pieced it together). I am making this sound much easier than it was but….. I got it done and it is accurate.

I wanted to keep this as close to original as possible so I bought Krylon yellow spray paint. I covered the dial area with tape and put about 3 coats on the base of the scale. I spray painted the dial cover with Krylon Mettalic. For the black top I made a template from paper and then used my template to cut the Siser Easyweed Vinyl. This vinyl will holdup outside for several years so I though it was strong enough to handle this. Put it all back together and they look new. And now my guests have scales to use.